Updates Archive
Click here for the latest updates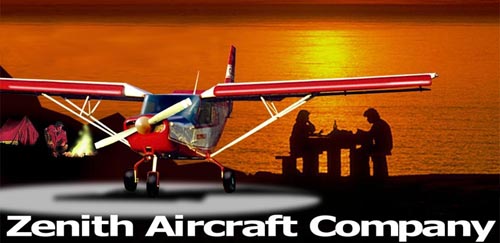 ---
6/2002: A STOL CH 801 in Tazmania, Australia:
---
April 2001: Photos from Sun'n Fun (Lakeland, FL):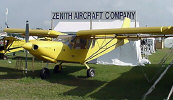 STOL CH 801 with a 220-hp Franklin engine.
---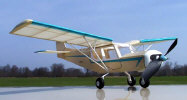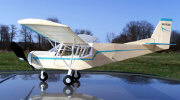 Mark Fineman sent us these photos of his STOL CH 801 with a 20-inch wing span; built of balsa and tissue; powered by rubber. First flight was April 8, 2001.
---
March 2001: Photos of custom 220-hp Franklin engine installation and cowl:
---
---
---
---
August 26, 2000: STOL CH 801 at Zenith Aircraft's 9th annual Open Hangar Day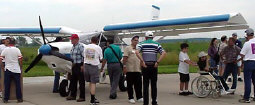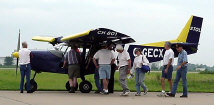 ---
August 21, 2000: Photos of a custom cargo belly pod
---
August, 2000: Oshkosh AirVenture bound... photos of the STOL CH 801 enroute to Oshkosh, photographed from a STOL CH 701.
Click here for more photos from EAA AirVenture 2000.
---
---
July 2000:
"..I was very impressed with the visibility and the performance. The six cylinder Walter-LOM engine has been running for the last couple of weeks and it has performed wonderfully. We have been working closely with the people at Moravia Ltd. to make sure that the engine is running perfectly..."
Earlier Art Mitchell of Flypass wrote: "I took her up for the first time a few minutes ago. It flew hands off. I did a lot of just flying over the runway this morning. Then when the clouds lifted enough I went up a couple thousand feet and just flew around over the airport.
"The power was great, no heating problems and beautiful to handle. I've got to start burning off the hours now. It looks like we will have the belly pod on for Oshkosh but I don't know if the plane will be painted yet."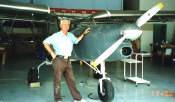 June 9, 2000: Art Mitchell of Flypass Ltd. sent us photos of his Walter-LOM engine installation. The new cowl was built by Airlink Technologies.
---
---
---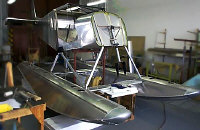 July 1, 2000: Completing installation and rigging of new 'Zenair #2200' all-metal floats to the STOL CH 801. The floats will be on display at EAA Airventure in Oshkosh, Wisconsin.
---
---
November 1999: The Fall 1999 issue of Aviation Quarterly magazine (Canada) has a cover story on the STOL CH 801: "Zenith Super STOL CH 801 Pilot Report," by Kenneth Armstrong:
"The CH 801 is at home on off-airport fields providing both the versatility of a four-seater and the capability of a cargo-hauling bushplane. Speed has been traded for outstanding high-lift features to offer true STOL performance and spectacular slow flight characteristics, with a huge cabin and payload."
---
November 1999: Zenith Aircraft recently fitted the STOL CH 801 with a new custom-formed acrylic windshield from LP Aero Plastics. The formed .125" windshield provides additional sturdiness and is made from "Air Quality" acrylic meeting Federal Specification L-P-391. The new windshield is to be supplied as standard equipment in the STOL CH 801 kit, supplied with a Spraylat strippable coating to protect the windshield in shipping, storage, and during installation to the airframe.
---
EAA Sport Aviation magazine Flight Test Report on the STOL CH 801: "Flying Qualities Report: Utility workhorse - Zenith CH-801," by veteran flight test pilot Ed Kolano.
"With four seats and its large cabin, the CH-801 provides plenty of volume to be filled with all kinds of stuff. Rugged and functional, the CH-801 should serve the workhorse role well."
---

The November'99 issue of Kitplanes magazine features a cover story on the STOL CH 801: "Budget Bushplane - Chris Heintz designs a four-place STOL for the masses," by Howard Levy and editor Dave Martin.
Click here for a full list of press reviews.
---
---
---
---
July 1999: Off the Net:
---
Click here to visit builders' / customers' personal construction web pages .
---
Flight Report of the prototype STOL CH 801 by LeRoy Cook, published in the June 2000 issue of CustomPlanes magazine: Click here to read the story
---
March 1998: Download a short 15 second preview of the video (image quality is low to minimize file size):
---
We've convinced Chris Heintz, designer of the STOL CH 801, to write a technical paper on the design of the STOL CH 801 aircraft. Heintz discusses and plainly explains the interesting and unique design features of the STOL CH 801. Click here to preview the exclusive article "Anatomy of a STOL Aircraft: Designing a Modern Short Take-Off and Landing Aircraft"
---
---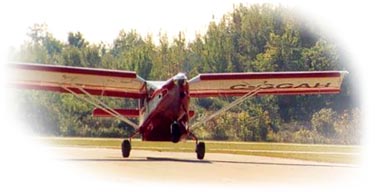 The STOL CH 801 prototype construction program was conducted by Flypass Ltd. in Guelph, Ontario. Headed by Art Mitchell, a veteran missionary pilot, Flypass began construction of the prototype STOL CH 801 in the fall of 1997 under the design supervision of Chris Heintz.
---