Zenith Aircraft Company
at EAA Oshkosh AirVenture
EAA AIRVENTURE OSHKOSH is the world's largest sport aviation event, annually drawing more than 800,000 people and 11,000 airplanes to Wittman Regional Airport in Oshkosh, Wisconsin. As usual, Zenith Aircraft Company will be displaying its line of kit aircraft at the week-long convention. Company staff will be available to answer questions, and designer Chris Heintz plans to be at the Zenith Aircraft pavilion throughout the week. See the STOL CH 801, STOL CH 701 and the ZODIAC CH 601.
Once again, we're located in the North Aircraft Display area (booths #424, 425, 430 & 431):
Zenair™ Builders Dinner: Saturday, July 29, 5:00 PM at the Zenith Aircraft booth. RSVP @ both by Friday, July 28. Reserved for builders and owners. The dinner is complimentary. Limit one guest per builder.
Designer Chris Heintz "Forums": Chris Heintz, designer of the Zenith Aircraft kits, is scheduled once again to speak on light aircraft design and construction.
Schedule subject to change - see actual program or visit fly-in.org.
Visit the official EAA AIRVENTURE OSHKOSH web site for complete details about attending the world's largest sport aviation event.
EAA Air Venture Oshkosh Dates through 2008:
2001:
July 25 - July 31
2005:
July 27 - August 2
2002:
July 24 - July 30
2006:
July 26 - August 1
2003:
July 23 - July 29
2007:
July 25 - July 31
2004:
July 28 - August 3
2008:
July 23 - July 29
---
Photos from past years... Click here for photos from Oshkosh'99

Trying out the ZODIAC CH 601 for size...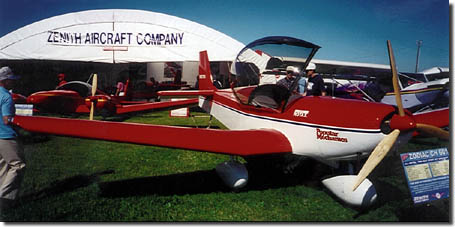 The Zenith Aircraft pavilion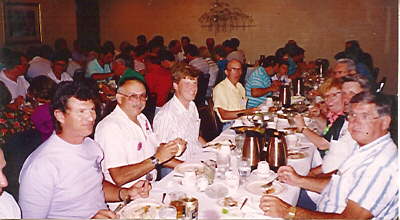 The popular Zenair Builders Dinner
[Back]