DESIGN
Wings
Tail
Fuselage
Gear
NEW Photos
NEW Videos
More Photos
Cabin Photos
Detail Photos
CONSTRUCTION
- Assembly Manuals
- Assembly Photos
Follow us on

STOL CH 801 Sport Utility Kit Aircraft
STOL CH 801 powered by the six-cylinder LOM engine: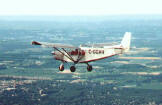 Art Mitchell sent us these photos of his Walter-LOM engine installation. The new cowl was built by Airlink Technologies.

Art will keep us updated on how the airplane flies with this supercharged 210-hp engine.... we can only imagine!

Notice that the nosewheel assembly has been moved forward to accommodate the long six-cylinder inline engine...
Looks like a turboprop!
The instrument panel...
The LOM engine at the EAA Sun'n Fun fly-in
The LOM engine... with a good view of the mount and nosewheel assembly.
---