DESIGN
Wings
Tail
Fuselage
Gear
NEW Photos
NEW Videos
More Photos
Cabin Photos
Detail Photos
CONSTRUCTION
- Assembly Manuals
- Assembly Photos
Follow us:


The high-lift features of the design give the STOL CH 801 its excellent short take-off and landing capability. The four-seat STOL CH 801 was designed to provide excellent STOL performance without the need for excessive power: Overpowering an existing aircraft is the easiest way to achieve short take-off performance (with enough power anything will take-off in a short distance!), but this requires a lot of fuel for acceptable endurance, and is an expensive, heavy, and inefficient way to obtain STOL performance, and does not provide good slow flight or payload due to the heavier engine weight and fuel load requirement.
While all aircraft are designed within certain power and engine weight guidelines, Chris Heintz does not design his aircraft "around" a particular engine - to maximize the customer's choice of installed powerplant. Recommended power for the STOL CH 801 is 150 to 220 horsepower, up to 400 lbs. installed weight.
That said, designer Heintz recommends the O-360 engine as the standard powerplant for the STOL CH 801: "The O-360 is very proven, dependable and readily available," Heintz stated. "While the initial purchase price is significant, the price actually compares very favorably with other engines when factoring in the long life of the engine."
Over the past 65 years, Lycoming has produced more than 260,000 piston aircraft engines. With a reputation for performance and reliability, Lycoming piston engines power more than 85% of the new general aviation aircraft produced worldwide.
The popular Lycoming O-360 (180-hp) engine is the standard powerplant for the STOL CH 801, with a full firewall-forward installation kit available for the basic O-360-A4M engine installation.

The XP-360 engine uses the same firewall-forward installation as the Lycoming O-360.

O-360 Engine Series:

180-210 horsepower
Four cylinder
2,000 hour TBO
Direct drive
Dry Weight: approx. 270 lbs.
Low compression models are available for auto fuel.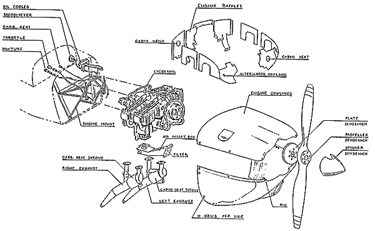 Sample Lycoming engine installation
Click here for full-size view
Many builders of the STOL CH 801 plan to install used and/or overhauled Lycoming engines: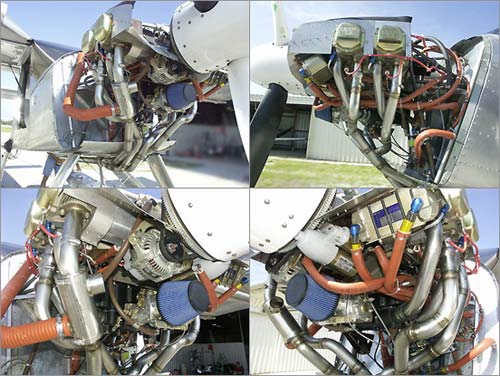 There is a large market for used Lycoming aircraft engines. Some sources to locate used Lycoming engines:
---
Regarding alternative engines for the STOL CH 801 designer Chris Heintz has stated:
"I've designed the STOL CH 801 to be suitable for different engine types, including auto-conversions. Operators in remote parts of the world may want an engine that will take automotive fuel and they want spare parts availability. Additionally, many modern automotive conversions minimize the engine cost and fuel consumption, while maximizing performance thanks to lighter engine weights."
Most custom engine installations require a lot of work and often "troubleshooting" to properly install, and may not provide the expected performance and reliability. Designed as a sport utility kit aircraft, top speed of the STOL CH 801 is limited by its high-lift design features, and more power will not yield significant top speed gains.
Zenith Aircraft Company stocks engine mounts and accessories for some other engine types but does not provide support for such installations.
The above resources are provided for informational purposes only. Alternative engines will affect performance, specifications and flight characteristics of the aircraft. Also, the weight and balance of the aircraft may be adversely affected by alternative engines, and the original fuel system may not be adequate or suitable for some engines. Most alternative engines will require a custom engine mount and engine cowl. Zenith Aircraft Company does not manufacture or directly support engines nor their installation.
---