RC / Scale Models of the STOL CH 701
A number of scale model and radio control (r/c) aircraft builders and enthusiasts have constructed plans-built models of the STOL CH 701 and 801 designs from Chris Heintz. The aircraft presents some unique and very effective short take-off and landing features used on few designs.
---
An 82-inch STOL CH 701 with 25cc gas engine, using Airtronics Radiant computor radio which allows use of flaperons. "This was one interesting airplane to build!" Perry Dascavich, Holden RC Hobby Hangar: www.holdenrchobbyhangar.com
---

Carlos Rangel's handmade 28% STOL CH 801 all-metal scale model
with amazing attention to detail:
Scratch-building the all-metal scale model: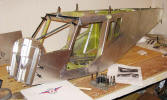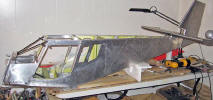 Carlos Rangel's handmade 28% STOL CH 801 all-metal scale model with amazing attention to detail.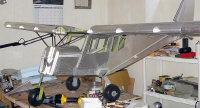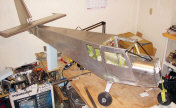 ---
STOL CH 750 RC from Brazil: View the Video Clip

---

This full-size STOL CH 701 visited a 250-foot R/C model plane field in Reedsburg, WI.

The R/C club newsletter stated that the R/C models "use more runway than he did for takeoff!"

---

Robin Fowler's STOL CH 701 model:

"The model is a traditional balsa interpretation of the CH 701 at 25% scale and is based upon an example kept at Great Oakley UK. (The owner is not the pilot in the model - she is a figment of my imagination!) It uses Futaba 6EX 2.4ghz radio with mechanical mixing for the flap and aileron functions."

---

STOL CH 701 and STOL CH 801 Paper Airplanes: Build your own paper airplane.
These paper airplane design by Gary Anderson actually flies (though the short take-off performance may be lacking).

Click here to download the STOL paper airplane drawings and manual.

---

A hand-made flying model of the STOL CH 701
A hand-made flying model of the STOL CH 701

---

This Tonka toy may not be quite to scale, but it's still a STOL CH 701...

---

A hand-made flying model built by an actual STOL CH 701 builder:

"It's a not-to scale non-flying paper model. To make one requires a few cold beers, a good cardboard piece, a sheet of art paper calendar and a small tube of glue. A bad CD works well for twirling propellers with epoxy clay on a pencil for spinner and shaft."
---
George N. of Lakeland, Florida sent these photos of his handmade STOL CH 801 model:
I ordered a box of various sized balsa sheets and sticks and got started thinking about construction ethods for such a unique aircraft. I probably spent more hour thinking about it than building it! Finally, on December 13th, I made my first test flight. I am pleased to say that it was successful, and I now have completed 7 flights with success. The airplane is semi-scale at 1/5th scale (73" wingspan), as I chose to make the fuselage 6" wide rather than 8", and the cowling is less than scale, but I am very pleased with it's overall looks and performance. It certainly catches the attention of all my fellow club members, who are amazed by its unique features. I am an old Army Aviator (rotary wing) and also hold commercial license for helicopters and fixed wing aircraft, but I have not been active in flying for some time. I hope to see your airplanes again at next Sun n Fun and study them in more detail. Thanks for a great design!
---
Mark F. sent us these photos of his STOL CH 801 with a 20-inch wing span; built of balsa and tissue; powered by rubber. First flight was April 8, 2001.
(Send us photos of your scale model should you decide to build a STOL CH 701 / 801).
---
Some STOL CH 701/801 design features: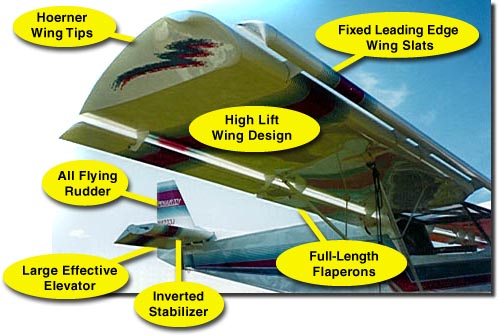 ---
Other resources:
---