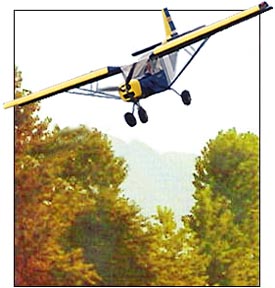 First introduced in 1986, the STOL CH 701 aircraft was developed as an "off-airport" short take-off and landing kit aircraft to fulfill the demanding requirements of both sport pilots and first-time builders.
With the STOL CH 701, designer Chris Heintz combined the features and advantages of a "real" airplane with the short-field capabilities of an "ultralight" aircraft. The aircraft features fixed leading-edge slats for high lift, full-span flaperons (both ailerons and flaps), an all-flying rudder, and durable all-metal construction.

Sport Pilot Category: The STOL CH701 design meets the definition of a Light Sport Aircraft (LSA) for operation under the FAA's Sport Pilot / Light Sport Aircraft (LSA) category.
Click here for more information about the Sport Pilot license.

While the basic design has remained the same, many significant improvements have been introduced over the years, including a higher useful load, easier and quicker build kits, and more detailed drawings and step-by-step assembly instructions.

Build your own STOL CH 701 kit aircraft from:
Complete Kit: Everything you need to build your own STOL CH 701...
Component (Section) Kits allow you to "buy-as-you-build"...
Plans-Only: New CAD Drawings and Photo Assembly Manuals permit you to "scratch-build" the entire aircraft (parts and components can also be purchased individually).
Starter Kit: The rudder starter kit allows you to gain hands-on experience while actually starting to build your own aircraft... for just $375. You can also assemble the Starter Kit at a hands-on workshop held right in the factory at no additional cost.
Short-field performance is where the STOL CH 701 aircraft truly excels: It is airborne in less than 120 feet of unprepared grass, or 90 feet of hard surface, at gross weight. Rotation is possible by the time full throttle setting is applied, and lift-off can begin at 25 mph (in ground effect, with no wind) - all within less than four seconds from stand still. Of course, any headwind shortens the time and distance required for take off.
STOL CH 701 Video Clips:

"I've seen airplanes that could be flown through a hangar, but I think a really good pilot could fly a STOL CH 701 into a hangar, do a 180, and fly back out. The performance is truly that spectacular."

- Sport Pilot magazine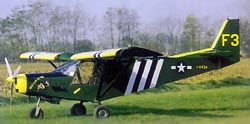 The STOL CH 701 was not designed to be just another 'pretty' light aircraft, but was engineered to offer outstanding short take-off and landing performance, all-metal durability, and unparalleled ease of construction. With form following function, the STOL CH701 looks like a 'Sky Jeep', as it is often called by its owners.
Not many of the more than 500 STOL CH 701's flying today can be found at airports - most are operated from short off-airport grass fields. The aircraft's all-metal construction makes it suitable for continuous outdoor storage - providing their owners with continuous cost savings (no hanger or tie-down fees).
Popular since 1986, there are hundreds of STOL CH 701 aircraft flying around the world!

Our Photo Galleries and new Video Clips show some of the STOL CH 701 aircraft being flown and operated around the world, many in backyard fields and in remote rural areas...
---
Recreational Flyer's June 2005 cover story: "STOL for the people: Zenith's amazing CH 701"
"Chris Heintz designed the CH701 some twenty years ago and it has proven itself all around the world. When the only runway is a cleared patch in the jungle, and the alternative is a week of hiking through snake-infected swamps, the 701 starts to look pretty good. This is a plane that can use almost any clearing as a runway, and its high angle of climb means that you won't hit the trees at the end of the strip. A football field is plenty enough airstrip for a 701."
"Thanks to its thick, high-lift wing, full-span flaperons and fixed, full-span leading-edge slats, the 701 needs little more runway space than the typical backyard with clear access at the ends," wrote Kitplanes magazine in its January 2004 cover story. "Because of its stellar short-field capabilities, the STOL 701 stands out as one of the few kitplanes to serve in the sort of serious utility roles usually reserved for larger airplanes such as the Helio Courier, Piper Super Cub, Maule or Aviat Husky. That includes missionary and utility work in third world countries as well as cattle herding, fence patrol and crop dusting."
From EAA Sport Pilot magazine (October 2008):
"The Chris Heintz-designed STOL CH 701 is a workhorse. It has been performing short takeoff and landing (STOL) duty for 20 years and has developed a cult following. Its big brother, the STOL CH 801, is a lot bigger, with twice as many seats and room inside. So, with small and large STOL machines, what else would Chris Heintz fans want? How about a mid-sized S-LSA STOL machine? They have one: the new STOL CH 750."
---
| | |
| --- | --- |
| | Zenith Aircraft Company also manufactures the kit for the STOL CH 801, a much larger 4-seat utility version of the STOL CH 701, designed for 150 - 200 hp engines, and the new STOL CH 750 two-seat light sport utility kit plane. |
---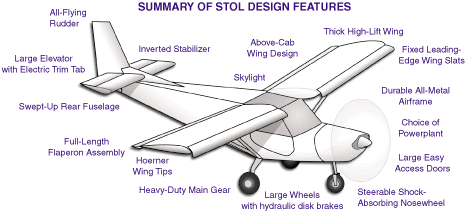 ---