---
---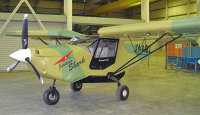 STOL CH 801 with a custom SMA diesel engine installation, with an agricultural spray system. Other custom diesel engine projects include the Delta Hawk diesel.
---
| | |
| --- | --- |
| | Mel Hinde's STOL CH 801 (Ontario, Canada) |
---
4/05: A nice full panel on Larry Landucci's STOL CH 801 (powered by a Lycoming O-360 engine).

Click here for a detailed schematic of the panel (pdf)
---
12/04: Maureen de Necochea (Lompoc, Calif.):

"We flew from the Central Coast in California to Alaska in our 801. We were able to get in and out of some real interesting fields, with all our camping/'survival' gear loaded up to the ceiling in the back. We plan to return to Alaska next summer. Beautiful, huge state.
"Tinman" now has more than 600 hours with the Subaru engine."
---
---
11/04: Marcil's Lycoming O-360 powered STOL CH 801 (Quebec):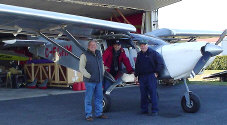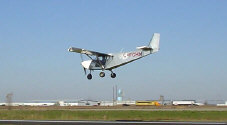 ---
---
---
4/04: Jim Frisby's Lycoming O-320 powered STOL CH 801 (Alaska):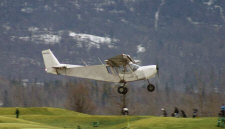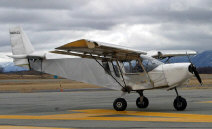 ---
Ben Haas' V8 powered STOL CH 801 of Jackson Hole, Wyoming: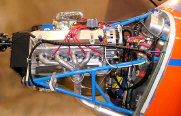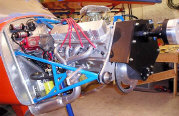 "I LOVE my 801 and Zenith is a great company to do business with. I hope you guys keep right on creating fun toys..."
---
---
Haiko's STOL CH 801 in Berthoud, Colorado: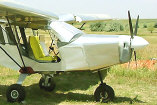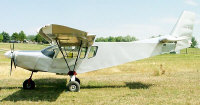 Excerpted from EAA.org:
"After attending Oshkosh in 2001, I started the project by ordering the tail kit in August of 2001, since this was my first time ever to build an airplane.
"As almost everyone else, I was not sure if I could tackle this job. After getting the tail kit I started drilling and riveting and to my surprise I finished the rudder well within the average builder's time. Now I was hooked!!
"The airplane is pretty much stock, as delivered by Zenith. However I decided to use an automotive engine because of the FADEC advantage of a modern auto engine. I decided on the Subaru SVX 6 cylinder EG33 engine with 230 HP and the 4 blade 74" Warpdrive prop. This combination delivers an unbelievable 610 lbs of thrust - that is about 30% more than my Cessna 182 with a new Cont. O-470.
"Total building time was 545 hours, well below the average factory estimated time and I attribute the rapid building progress to the use of the Avex blind rivets.
"With the Subaru engine I have a truly single lever power management system (just like a jet) and I can concentrate on flying the airplane instead of watching all the gauges with a conventional aircraft engine.
"The aircraft is a STOL design and will take off at my elevation of 5000 feet here in Colorado in less than 500 feet without the use of the flaps."
---
Volare Sport magazine (Italy), July 2003 cover story.

---

New from Abacus Software: High quality FlightSim 2002 aircraft files.
---
August 2002: Photos from Venezuela:

---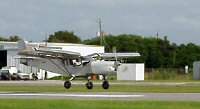 September 2002:
Dave's LOM-powered STOL CH 801 Flies:
"The airplane flies great and engine runs great. Solid 3 hours flight time and no major problems I will give you more numbers on the speeds and performance as the testing continues. One number I can give you is with the constant speed prop, the take off run was 225 feet. Take into account no flaps were used and the power was eased in very slow. Climb is 1,500+ fpm."
---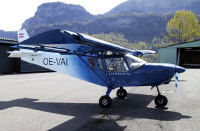 Austrian STOL CH 801, powered by a Lycoming O-360, and other photos of recent STOL CH 801 completions.
---
12/2001: STOL CH 801 - powered by the Walter LOM engine.
---
---
Photographing the new ZODIAC XL from the STOL CH 801:
---
September 2001: Builder Adrian Noble sent these pics of the first Australian STOL CH 801: "A couple of photos, sorry they're not as clear as I would have liked... Cheers from the happy parents."
---
September 2001: New STOL CH 801 flight simulator files: Sample screen shots: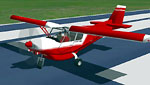 Click here to download these new STOL CH 801 flight sim files courtesy of Brian Gladden. (We haven't had a chance to "fly" this aircraft for performance or flight characteristics...)
---
---
---
Some Builder photos:
---
Performing European load stress tests on the STOL CH 801...
---
Aero-News Network names the STOL CH 801 first "Ten Best SportPlanes for 2001"
"...a HUGE 4-place cabin, an excellent stability and control profile, good visibility and the ability to land in areas that other aircraft can barely park in. No kidding, folks, I know it isn't the prettiest belle at the ball, but this little lady can do stuff that will blow you away.
"...an outstanding airplane by every definition."
---
STOL CH 801 Kit Eligible for Airworthiness Certification.
April 6, 2001: The Federal Aviation Administration (FAA) completed evaluation of the STOL CH 801 kit and determined that the kit, as evaluated, met the intent of 14 Code of Federal Regulations (CFR) Part 21, Section 21.191(g). The FAA notes that the evaluation should not be construed as meaning the kit is FAA CERTIFIED, CERTIFICATED, OR APPROVED.
---

October 1999: The November'99 issue of Kitplanes magazine features a cover story on the STOL CH 801: "Budget Bushplane - Chris Heintz designs a four-place STOL for the masses," by Howard Levy and editor Dave Martin.
Click here for a full list of press reviews.
---
---