Zenith Aircraft's New Four-Place STOL CH 801
"This STOL aircraft doesn't come up short"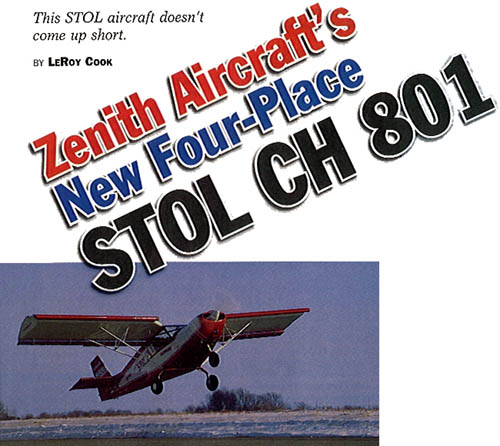 This STOL aircraft was off the ground
in about 100 feet.
By LeRoy Cook
Reprinted from
CustomPlanes magazine, June 1999
Pages 34 – 37, © Custom Planes magazine 1999
WHEN CHRIS HEINTZ first flew the prototype of his CH 701 STOL (short-takeoff-and landing) kit airplane in 1986, few expected the ungainly little two-seater to catch on. It wasn't blazingly fast. It wouldn't loop and roll, and it certainly wasn't a replica of a sexy warbird. In fact, it looked like nothing else in the air - it had fat, high wings adorned with high-lift appendages, a steeply upswept tailcone and rugged tricycle gear with large-diameter wheels. But what the CH 701 did offer was short-field performance - the focal point of its design philosophy. It could scoot off the ground in less than 100 feet, climb skyward at impossible angles and stall at 30 mph. Given a little wind and a light load, it could land just about anywhere, especially when fitted with floats or skis.
Well over 500 CH 701 kits have been sold, filling requirements for a rugged, all-metal, easy-to-build kit that can fold up its wings and roll home to the garage. But it can't do everything. Its cabin space is limited, and an 80-hp Rotax can only provide so much lifting. There was a clear demand for a four-place version, able to lift 1,000 pounds of useful load out of a space no longer than a soccer field (300 to 360 feet). Buyers needed interior space for the standard 50-gallon drum or whatever else was to be carried.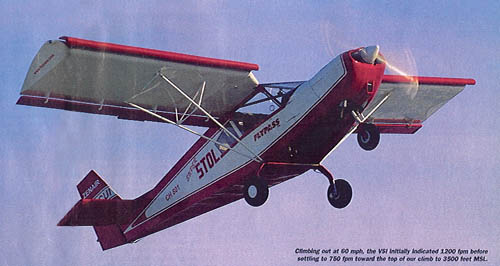 In 1997, work was begun on a scaled-up version of the CH 701, to be called the CH 801. Because the shops at Zenair, Ltd., the parent company of Zenith Aircraft, were too busy with other projects, the prototype was actually built by Zenair's central-Canada distributor, Flypass, Ltd., of Guelph, Ontario. It first flew just prior to the 1998 Sun 'n Fun EAA fly-in and was shown to the public at the EAA's Oshkosh convention. Development continued through the next year. Orders started rolling in as soon as the rumors started flying about a giant-sized Heintz STOL design. Chris Heintz has a reputation for accomplishing what he sets out to do, even if it means flying four people from a soccer field.
As is true of its smaller sibling, there's nothing especially pretty about the CH 801, unless you admire a form that fills a function. We were privileged to inspect and fly the CH 801 pre-production prototype at the Zenith Aircraft factory in Mexico, Missouri, while it was taking a midwinter break from the company's development center and headquarters in Midland, Ontario. Plant manager Nicholas Heintz, son of the designer, showed us around the aircraft, which only approximated the production versions to follow. While the design and layout had been proven, there are always details to be worked out.
Design Details
The wingspan is 30.83 feet, as opposed to the CH 701's 27 feet, and the wing area was increased from 122 to 152 square feet. Those small increases allowed the gross weight to grow from 960 to 2020 pounds. Power requirements went from an 80-hp Rotax 912 to a 180-hp Lycoming; other engine options, like the Subaru conversions, are expected to be used. In fact, the proof-of-concept CH 801 was flown with a 180-hp Subaru auto engine conversion.
| | |
| --- | --- |
| When the wingspan increased to 30.83 from the CH 701's 27 feet and the wing area was increased from 122 to 152 square feet, the gross weight was able to go from 960 to 2020 pounds. | |
Heintz showed us the aircraft's features, beginning with the composite cowling covering the Lycoming 0-360. For access beyond the oil access door, the top half of the cowling can be quickly removed via quarter-turn Camloc fasteners. A two-blade Sensenich propeller was being used; part of the test program was finding a suitable propeller that would maximize the potential of the 0-360, so other props are being evaluated.
The nosegear carries a sturdy 6.00 x 6 tire and uses a bungee-cord shock-absorbing system – simple and reliable for the bush country. It is steerable via a direct linkage to the rudder pedals. The gascolator is easily reached on the left side of the lower cowling, and individual tank sump drains are near the leading edge of each wing root. The maingear is a massive one-piece slab of aluminum spring, attached beneath the fuselage. Cleveland wheels and brakes are fitted, using 8.00 x 6 high-flotation tires. A belly pod to increase baggage room is under development.
The wing is a work of art. The leading edges at the wing roots are severely truncated to increase visibility in turns. The very deep airfoil pumps out lots of lift, enhanced by fixed leading-edge slats that form a velocity-boosting slot at high angles of attack. By comparison, Heintz says, the flaps are less effective, used primarily to steepen approaches and lower the nose for better visibility. The ailerons droop with the flaps, so designer Chris Heintz left no possible source of lift unexploited. The flaps were actuated manually on the preproduction machine, but Zenith intends to fit electric flaps on production machines, offering an unlimited choice of extension and a hands-off switch position for retraction. Pushpull tubes are used for the aileron and flap control system. The round V-struts and jury struts of the test airplane will be changed to more-streamlined struts in production versions.
| | |
| --- | --- |
| A deep airfoil pumps out a lot of lift. | |
Fuel is contained in 18-gallon welded aluminum wing tanks; the 36 gallons of the prototype will be increased as an option in subsequent aircraft. Aft to the tailcone, the rear fuselage's upward sweep is designed to allow 30-degree noseup attitudes on takeoff without scraping the tail. The powerful elevators and the reverse-camber airfoil of the horizontal stabilizer permit the pilot to raise the nose as soon as propwash is moving over the tail. Thus, the friendly characteristics of a tricycle-gear aircraft are combined with the slow liftoff of a taildragger. The rudder is almost all-moving, with only an enlarged dorsal fin remaining fixed. This is a Chris Heintz design feature, found on most of his airplanes.
Going Aboard
Boarding utilizes two large doors, one on each side of the cabin; the forward-hinged hatches on the preproduction machine will be changed to a swing-up style in production kits, preferred for seaplane docking. I watched Nicholas Heintz step adroitly onto the forward slope of the fat maingear tire and vault easily into the saddle. It works quite well. A small step under the door gives a second toehold, if desired. There was an abundance of legroom and headroom in the front seats, and the rear seats were more than adequate, placarded for a total of 340 pounds. Cabin width is a full 44 inches. The front seat backs fold to simplify reaching the rear seats.
Avionics were limited to a VAL 760TSO transceiver and an intercom unit, although a mount for a portable GPS was obviously ready for cross-country trips. Gyro instruments were fitted, and night-flying equipment was installed. A two-strap shoulder harness was added to the front-seat lap belts.
| | |
| --- | --- |
| Avionics were limited to a VAL 760TSO transceiver and an intercom. A mount for a portable GPS was ready for cross-country flights. | |
Giving the Lycoming a pump of the throttle, we twisted the key to start and moved out for the runway. The positive nosegear steering is stiff, but there's no slack in the system. Visibility is outstanding on the tall gear.
Performance
The runup is straightforward. Don't worry about the Heintz designed central control stick with a Y-shaped handle on top; it falls naturally to hand and soon seems instinctive. We were told that there will be some relocation of engine instruments and controls in production, so that the throttle can be reached from either seat. An electric elevator trim switch moves a tab on the left elevator, which we set for takeoff. We noted that the helicopter airspeed indicator's scale started at 20 mph.
We were surprised that Heintz didn't lower a notch or two of flap for takeoff, but they were just left up when we aimed down the runway to launch. We might as well have departed across the runway, because with the throttle shoved in and full-aft stick, we came loose in perhaps 100 feet of roll, clawing skyward at an absurd angle. There was no need to let the nose down. We accelerated to 60 mph in the climb and noted that the vertical speed was initially solid at 1200 fpm before settling back to about 750 fpm at the top of our climb to 3500 feet MSL. Given that maximum rpm was limited to about 2400, the climb was creditable.
| | |
| --- | --- |
| | The leading edges of the wing roots have been severely truncated to increase visibility in turns. |
In cruise, the drag-abundant CH 801 settled into a 95-mph level-flight reading, pulling 2400 rpm. Both climb and cruise-speed improvements are expected with further development. However, rapid transit is not what the CH 801 is all about. When you're moving from a jungle village to a trading post, you'll be glad to get out of a canoe or footpath to fly at 100 mph. To make this possible, the big wing really goes to work in slow flight; even without flaps, we could indicate 35 mph and still maneuver safely. When flaps were deployed, we finally got the airplane to mush into a stall at 25 mph IAS.
Heintz says he usually won't fly faster than 65 mph with flaps extended, out of consideration for the structure. In cruise speed, we tried a 360-degree turn in a 50-degree bank to see how much the G-load affected the airspeed; it stabilized at 80 mph and never sagged lower. We enjoyed excellent visibility through the transparent overhead panels. Control forces were light at both ends of the speed spectrum. The CH 801 is fun to fly, in addition to being highly utilitarian.
Descents are easily accomplished; even with the engine at 1500 rpm, we were able to drop at 1500 fpm by maintaining cruise speed. The yellow arc starts at 125 mph, with redline at 150. Entering the pattern, we aimed for the touchdown zone at 70 mph indicated, flaring vigorously into a nose-high attitude with full-aft stick and touching down gently at less than 45 mph. We never used more than 500 feet of runway and could easily cut that in half with a bit of effort.
LEFT: The rear fuselage's upward sweep allows 30-degree noseup takeoff attitudes without scraping the tail. RIGHT: Fixed leading-edge slats form a velocity-boosting slot at high angles of attack.
It appears that Chris Heintz has come up with a fully capable STOL design to match the smaller CH 701. As with all his aircraft, kit assembly can be done with hand tools alone, using Avdel Avex pull-type rivets to attach the skins. All welding of the steel-tube forward fuselage cage is accomplished at the factory. All complex parts are preformed, and about 4,000 rivet holes are predrilled at the factory. Therefore, no blueprints or plans will be supplied; only a comprehensive builder's manual with specific illustrations is available. This eliminates the possibility of copy-cat clones being fabricated from Zenair plans, as has been done with the CH 701. Build time for the CH 701 is estimated to be a minimum of 400 hours, so the CH 801 might be expected to take no more than 50 percent more than this. As always, the actual construction time depends on the degree of finish work desired.
If you need a four-place, all-metal kit aircraft that can land on short dirt runways - or no runway at all - the new CH 801 should do the job. Production kits are expected to be available by late spring 1999.
---
Reprinted from CustomPlanes magazine, June 1999. Pages 34 – 37, © Custom Planes magazine 1999.
For subsciptions to the monthly magazine, call 800-999-9718 or visit the website: CustomPlanes
---