"

The new Zenith CH 750 CRUZER is an economical all-metal two-seat cross-country cruiser that you can easily and quickly build yourself, and fly with your Sport Pilot license.

The CH 750 CRUZER is the "on-airport" version of the popular STOL CH 750 "off-airport" light sport utility kit plane, famous for its roomy cabin with comfortable side-by-side seating and easy cabin access from both sides. While influenced by its well-known STOL predecessors (the STOL CH 701 "Sky Jeep", the STOL CH 750 and four-seat CH 801 sport utility aircraft), the CH 750 Cruzer is an all-new design optimized as an economical cross-country cruiser for typical (airport) operations.

Being the latest model from Zenith Aircraft Company, the complete kit for the CH 750 Cruzer is even quicker and easier to build than the STOL CH 750, which averages under 400 hours kit assembly time.
Start building your CH 750 Cruzer, for just $375 at the Zenith kit factory!
Next hands-on workshops:
... More Updates
The all-new CH 750 design is available as a new easy-to-build kit which revolutionizes ease and simplicity of construction, drawing upon Zenith's decades of experience in the kit industry.
Economical cruise speed, yet easy to fly with a slow landing speed
Huge cabin, side-by-side seating, easy cabin access though two huge doors
Adjustable seats
New raised skylight and increased cabin height
Spectacular "wrap-around" visibility
Many engine choices: UL Power, Continental, Rotax, Lycoming, Jabiru, Corvair and other auto conversions, and more...
Simplicity of a standard tricycle gear configuration

The Zenith CH 750 Cruzer features an all-new airfoil supported by a single stream-lined strut. Compared to the STOL CH 750, the empennage has also been redesigned for its new mission, with a symmetrical stabilizer and a shortened horizontal tail span. The vertical tail features a fin and rudder (replacing the traditional all-moving vertical tail design of the Chris Heintz STOL series). In keeping with its mission, the Cruzer is fitted with 5.00 x 5 aircraft wheels and new wheel fairings. The instrument panel of the new design is also wider and more conventional than the STOL CH 750 (that has a narrower instrument panel to improve forward-visibility in extreme nose-high attitudes associated with STOL flying).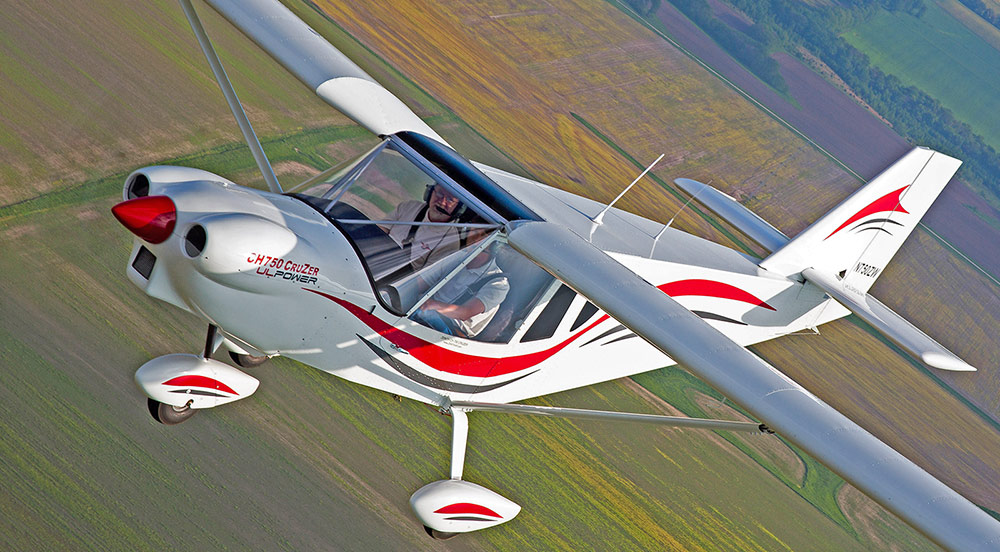 The Zenith CH 750 Cruzer was introduced at Sun'n Fun and was flown to the show by Zenith Aircraft Company president Sebastien Heintz (1,000 miles from the factory in Missouri). The prototype demonstrator aircraft is equipped with the UL350iS 130-hp fuel-injected UL-Power engine and the latest Dynon SkyView glass panel display system. As equipped, the aircraft weighs 780 lbs., providing a useful load of 540 lbs. at the 1,320 lbs. LSA gross weight limit. Cruise speed is 118 mph, rate of climb is 1,200 fpm, and stall speed is 39 mph. The new design utilizes the same firewall as the STOL CH 750 and the low-wing Zenith CH 650, meaning existing firewall-forward engine packages are readily available including the Continental O-200, Rotax 912 series, Viking (Honda), Jabiru, Corvair, and others.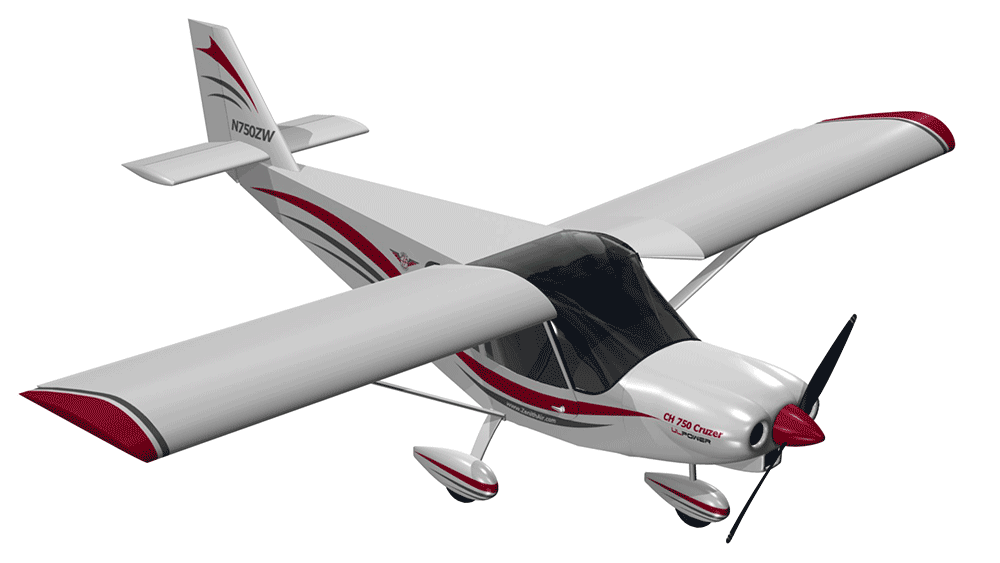 Complete airframe kits for the new design are offered by Zenith Aircraft Company. As with other all-metal Zenith kits, this newest model will be built using the latest modern manufacturing (CNC) technology to offer matched-hole assembly throughout. The new easy-to-build kit draws upon Zenith's decades of experience in the kit industry, requiring less than 400 hours to assemble the airframe from the kit (requiring only basic skills and simple hand tools). A quick-built kit option will also be available.
Component kits are scheduled for delivery starting next month. As with other Zenith designs, blueprints (drawings and illustrated photo assembly manuals) will also be available separately for scratch-builders.

Build your own Zenith CH 750 CRUZER aircraft from:
Complete Kit: Everything you need to build your own Zenith CH 750.
Component (Section) Kits allow you to "buy-as-you-build"...
Plans-Only: Detailed Drawings and Photo Assembly Manuals permit you to "scratch-build" the entire aircraft (parts and components can also be purchased individually).
Starter Kit: The rudder starter kit allows you to gain hands-on experience while actually starting to build your own aircraft... for just $375. You can also assemble the Starter Kit at a hands-on workshop held right in the factory at no additional cost.
The modern CH 750 kit has been developed to provide the builder with everything needed to complete the airframe - with only basic tools and skills. The CH 750 airframe requires less than 400 hours to build from the complete factory-supplied kit.

The Zenith CH 750 Cruzer features the same large cabin as the STOL CH 750 (3rd edition). The STOL CH 750 cabin (which by all measures is already very roomy for a light aircraft) was increased in size by raising the cabin height by nearly three inches (or 70 mm.) The top front of the cabin (the skylight) has been raised and is now part of the lifting surface of the aircraft:

Download and Print

: Basic CH 750 Cruzer Brochure

Zenith CH CH 750 Updates:
Follow us on facebook for the latest updates:

Visit the exclusive ZENITH.AERO Online Community for news and updates from Zenith builder, owners and pilots from around the world.

Start building your STOL CH 701 or CH 750 for just $375 at a workshop or with the Rudder Starter Kit
Next hands-on workshops:

Check out Photos 2020 Zenith Homecoming | Timelapse Video | Slideshow Video

We've published a new Zenith Aircraft magazine, chock-full of information on building and flying your own Zenith. This free 48-page full color magazine provides an excellent introduction to the world of recreational flying and kit aviation, and covers all Zenith aircraft kit models, including the STOL CH 701. Contact Zenith Aircraft Company to have one mailed to you.
Builder Testimonial:
"I wanted to drop you a short note to say just what a great product you and your company are providing. The tail kit went together in short order and I am just about done with the forward part of the fuselage and will be getting ready to join it to the tailcone soon. Having worked on a [best selling all-metal E-LSA kit] prior through the tailcone and wings which I sold to start your project, I have to say that I am enjoying working with your product much more. The part quality is outstanding, the holes so far all seem to fit perfectly, and your choice of the 6061 over the 2024 aluminum is much nicer to work with. I am amazed at just how sturdy this structure is becoming the further I get. The only problem that your kit has created is that I now seem to spend my days at work thinking about what part I will be able to work on once I get off!"
- David Mason, Zenith CH 750 Cruzer kit builder (Valparaiso, Indiana)
How do we top the highly successful One Week Wonder project (where a complete Zenith CH 750 Cruzer was built in less than seven days at EAA Oshkosh AirVenture)?
EAA has announced their "Give Flight" project where five (5) complete sets of wings will be started during the week at Oshkosh by various EAA Chapters (to be taken home after the show to become part of a group-built airplane). We're thrilled that EAA has asked Zenith Aircraft to provide three sets of wings for the Give Flight project. Three new Zenith aircraft (two Zenith CH 750 Cruzers and one Zenith CH 650) will be started at Oshkosh this summer with the help of volunteers! If you're a Zenith builder (or want to learn) please join us in building and teaching others about the joys of aircraft kit building!
March 2015: EAA tours the One Week Wonder Zenith CH 750 Cruzer across central Florida to EAA Chapters.
One Week Wonder Summary Video
Watch the new video from EAA about the One Week Wonder project and see why Aero-News Network named the project "Best of Show " at EAA AirVenture Oshkosh 2014. In just seven days, more than 2,500 volunteers helped build a Zenith CH 750 Cruzer airplane (from a kit)!

One Week Wonder! 2,500 EAA's help build a Zenith CH 750 Cruzer.
The story behind the legacy, by Jonathan Porter.

EAA EXPERIMENTER magazine, October 2014 issue

Read the full story

One Week Wonder Time Lapse Video
Watch as the entire One Week Wonder Zenith CH 750 Cruzer comes together in just 45 seconds!
9/20/14: The EAA One Week Wonder Zenith CH 750 Cruzer back to its origins at the Zenith kit factory where its parts were built (and shipped to Oshkosh), pictured here with just a few of the many volunteers who helped build this aircraft in seven days at AirVenture 2014!
EAA's Charlie Becker and Tracy Buttles flew the airplane to Mexico, Missouri from Oshkosh, 400 miles to attend the event. Their return flight to Oshkosh was non-stop KMYJ to KOSH, demonstrating the Cruzer's excellent cross-country flying capability.
8/19/14: Complete kits for the Zenith CH 750 Cruzer are now shipping!

Here, we ship four (4) complete CH 750 Cruzer kits by container to Australia!

One Week Wonder - Oshkosh 2014

What an awesome week it was! Thank you to all who helped with this project, especially the volunteers and sponsors!
Photo album of the One Week Wonder project | First Flight Video | Volunteers at Work - Day 3 of 7 Video

First flight video of the One Week Wonder (piloted by Jeff Skiles)
"On August 5, 2014, the airplane that was built in seven days at EAA AirVenture Oshkosh 2014 flew for the first time - carrying more than 2500 signatures of those who helped build the plane into the air. Video by Brady Lane / EAA"
First flight of the EAA staff built Zenith CH 750 in Oshkosh
A week after the One Week Wonder's first flight, the first flight of the EAA staff built STOL CH 750 took place on 8/13/14!
Congratulations EAA! More info on the EAA staff's Zenith kit project
Zenith CH 750 Cruzer on Full-Lotus amphibious floats at the Zenair 40th anniversary celebration (7/19/14)

Chris Heintz joined Zenair Ltd. to celebrate its 40th anniversary on Saturday, July 19, 2014 at the Zenair factory at Huronia Airport in Midland, Ontario, Canada. Photos from the event: Facebook photos | More Photos

Zenith CH 750 Cruzer cabin and instrument panel
EAA Sport Aviation article previewing the One Week Wonder project
Pages 66 - 69, EAA Sport Aviation Magazine, May 2014
Video: Wing Construction - Match-drilled with final hole size

Here's a look at the Zenith CH 750 Cruzer wing kit, featuring factory-built (completed and riveted) wing spars, and match-drilled final hole size CNC-drilled parts. Just cleco the parts together right "out of the box", ready for riveting (using blind pulled rivets).

The Zenith CH 750 with the Rotax 912iS engine installation.

Developed by Skytek Aircraft Services (of Vernon, British Columbia) the new fuel-injected Rotax 912iS is now available as a complete Rotax Engine Installation Kit for your Zenith. (Skytek also offers professional builder assistance service to Zenith builders)

Video Clips: Short Take-Off and Landing | Flying with the Rotax 912iS | Engine Installation Explained | Rotax-Owner.com Zenith Builder Videos

"Still quite STOL-worthy, the Cruzer also lives up to its name"
Video Report: Aero News Network CEO and Editor-In-Chief, Jim Campbell took the new Zenith 750 Cruzer on a test flight while at the U.S. Sport Aviation Expo 2014. Campbell reports on the handling qualities of the airplane. Watch the video.

More reviews: Light Sport Aircraft Flyer Review | Dan Johnson Reviews the Zenith CH 750 Cruzer

Zenith CH 750 CRUZER on the cover of the November / December 2013 issue of Aviation magazine (French language), cover story, pages 8 - 12, by Richard Saint-George:

The Zenith CH 750 Quick Build Kit, ready for pick-up at the Zenith factory

(This particular Quick Build Kit was loaded on a U-Haul trailer and driven home to Oregon from the Zenith factory in Mexico, Missouri).

Video Clip: Inside the Zenith factory for the hands-on CH 750 Cruzer rudder assembly workshop
Zenith CH 750 Cruzer on the cover of the November 2013 issue of Powered Sport Flying magazine, cover story.

First Flight Video (Nov. 6, 2013): Flying the Zenith CH 750 behind the new Rotax 912iS engine installation.
Roger Dubbert from the Zenith factory flies the CH 750 with the Rotax 912iS engine installation. Based on the proven concept of the Rotax 912 engine, the new 912iS engine offers a new engine management system (including fuel injection). The new Rotax installation was a collaboration project between Rotax distributor Rotech Research Canada, Ltd., Skytek Aircraft Services Ltd. and Zenith. Complete engine and installation kits (firewall forward packages) will be available soon.
10/14/13:
Zenith CH 750 Cruzer Complete Tail Kits are now shipping!
Price and Ordering Information
Zenith CH 750 CRUZER on the cover of the November 2013 issue of KITPLANES magazine, cover story: "A Zenith for the Asphalt Jungle" Pages 6 - 15, story by editor Paul Dye:

"It is dependable and honest, flies at 120 mph, operates easily and smoothly off of paved and prepared runways, and will teach pilots good flying habits. There is plenty of cockpit space and the baggage area is cavernous."

Follow-Up: Photos from the 2013 Open Hangar Day (from September 20 & 21)
Flying the Zenith CH 750 CRUZER to EAA AirVenture (Oshkosh)
June 18, 2013:
Trial fit and assembly for the final-hole-sized match-drilled rudder kit parts for the new Zenith CH 750 Cruzer:
"Wow! The parts are ready for [blind] riveting right out of the box, and with minimal deburring!"
The new Zenith CH 750 Cruzer on the cover of EAA Experimenter magazine, June 2013 issue (Vol. 2 No. 6): "The Zenith 750 Cruzer"
Pages 14 - 19, cover story by Budd Davisson:

Compared to the STOL CH 750:
"It's a much more efficient airplane for those who really don't care about having the absolute ultimate in off-airport performance." Read the entire article

Check out the new Zenith CH 750 CRUZER aircraft. Zenith's latest design is based on the STOL CH 750 but optimized for more speed, and features a new wing design (without slats) and an all-new tail.


Designer Chris Heintz with the STOL CH 750 Prototype
(between the STOL CH 801 and STOL CH 701)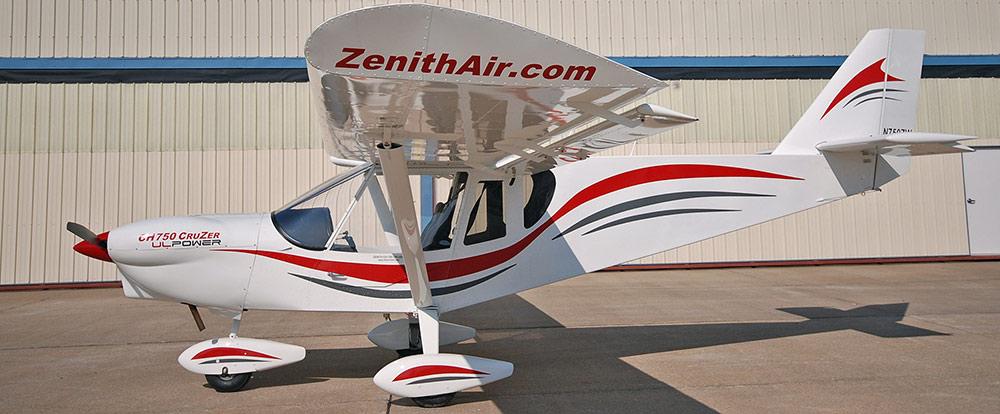 ---