PERFORMANCE AND SPECIFICATIONS


SPECIFICATIONS
STOL CH 750
(Based on factory prototype, equipped with 100-hp Continental O-200 powerplant)
WING SPAN

29 FT. 10 In.

9.1 m.

HEIGHT (rudder tip)
8 Ft. 8 In.
2.6 m.
WING AREA

144 SQ.FT.

13.4 m.sq.
WING CHORD
4 Ft. 10 In.
1.5 m.
LENGTH
21 Ft. 10 In.
6.7 m.
HORIZONTAL TAIL SPAN
8 Ft. 5 In.
2.6 m.
HORIZONTAL TAIL AREA
22.2 Sq. Ft.
2.0 m.sq.
EMPTY WEIGHT

775 LBS.

350 kg.
DESIGN GROSS WEIGHT (Edition 2)
1,440 LBS.
652 kg.
GROSS WEIGHT (LSA Limit)
1,320 LBS.
600 kg.
USEFUL LOAD (LSA)

545 LBS.

250 kg.
WING LOADING (LSA)
9.15 LBS/FT.SQ
44.8 m.sq.
POWER LOADING (LSA)
13.2 LBS/BHP
6.0 kg/BHP
DESIGN LOAD FACTOR (ultimate)
+6 G / -3 G
NEVER EXCEED SPEED (VNE)
125 MPH
200 km/h
CABIN WIDTH
42 INCHES
100 cm.
CABIN WIDTH (bubble doors)

50 INCHES

1.27 m.
FUEL CAPACITY (std., dual wing tanks)
24 US Gallons
(2 x 12 gal.)
90 liters
(2 x 45 liters)
SUITABLE POWER / Max Engine Weight
80 - 140 hp. / 300 lbs. installed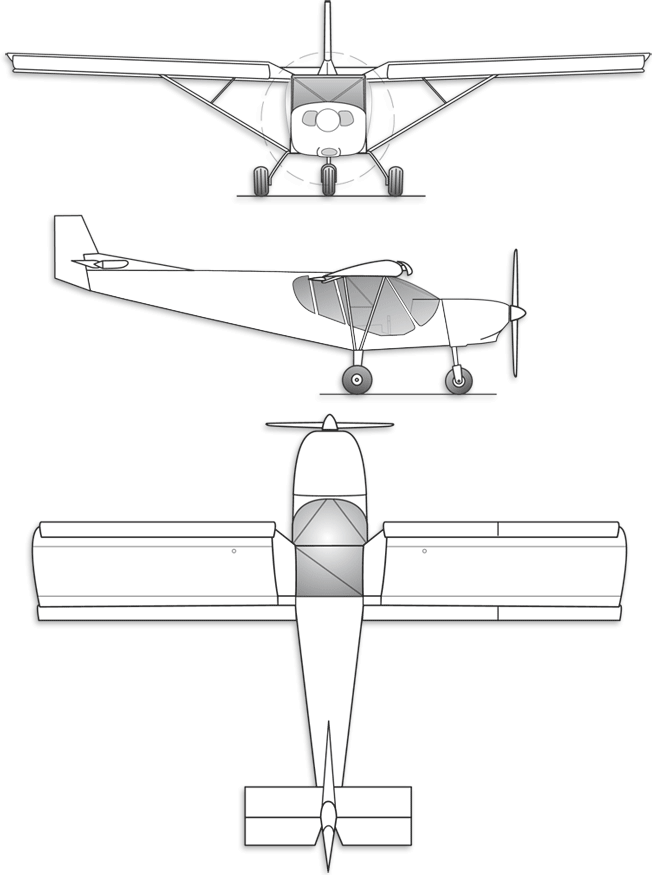 Click here for a full-size view
STOL CH 750 PERFORMANCE
Continental O-200 - 100 hp
@ gross weight 1,320 lbs (LSA Limit)
TAKE-OFF ROLL
100 Feet
30 m.
LANDING ROLL
125 Feet
38 m.

MAX. CRUISE, Sea Level

100 MPH
162 km/h
STALL, flaps down
35 MPH
56 km/h
RATE OF CLIMB
1,000 fpm
5.1 m/s
SERVICE CEILING
14,000+ feet
4,200+ m.
RANGE (standard, no reserve)
440 miles
710 km.
ENDURANCE (standard, no reserve)
4.4 Hours
4.4 Hours
Specification and performance figures quoted with the Continental O-200-A engine (100 HP). Standard atmosphere, sea level, no wind.
Performance and specification figures based on prototype flight test results. All technical data, specification and performance figures subject to change without notice.
Powerplant range: 80 - 125 HP engines.
Different engines and installed options will affect performance and specification figures. Heavier engines will limit useful load (by increasing the empty weight).
Engine Limitations: 80 - 140 hp, up to 300 lbs. installed. Alternative engines will affect performance, specifications and flight characteristics of the aircraft. Also, the weight and balance of the aircraft may be adversely affected by alternative engines, and the original fuel system may not be adequate or suitable for some engines. Most alternative engines will require a custom engine mount and engine cowl. Zenith Aircraft Company does not manufacture or directly support engines.
While the STOL CH 750 was developed to meet the definition of a light-sport aircraft, as defined in the FAA's Sport Pilot category, Zenith Aircraft Company cannot guarantee that the aircraft, as constructed by the builder, will meet the definition. Due to the gross weight limitations of the Sport Pilot / Light-Sport Aircraft category, it is recommended that the aircraft be kept as light as possible if planning to operate the aircraft in this category. Larger and heavier engines and other installed equipment limit the useful load of the aircraft, and may disqualify the aircraft from meeting the defined category limits of the Sport Pilot category.
STOL CH 750
True short take-off and landing
capability for the serious sport pilot.