Professional Builder Assistance / Fast Build Kits
Zenith Aircraft Company only manufactures and sells kits and parts. The aircraft are not available factory-assembled from Zenith Aircraft Co.

If you do not have the time to build your own airplane, we suggest you purchase a new factory-built Light Sport Aircraft (LSA) or used (assembled) aircraft, or use professional builder assistance to speed up your kit project.
Click here for details about FAA rules and regulations regarding kit aircraft, and for details about professional builder assistance.

View a Video Clip of available Builder Assistance
---
A STOL "Fast Build Kit"

"Fast Build Kits" and builder assistance is offered by several independent companies and individuals.
---
The following companies have stated that they offer builder (kit assembly) assistance for those individuals who seek professional help in building their aircraft. Note that these companies are not affiliated with Zenith Aircraft Company, and are independent and not "approved" by Zenith Aircraft Co.
Quality Sports Planes (West Coast) offers custom Builder Assist Programs:
Quality Sport Planes LLC
Cloverdale Municipal Airport
Cloverdale, CA 95425
Tel: 707-546-6272
Email: qualitysportplanes@gmail.com
Website: www.qualitysportplanes.com
---
Tracy Buttles of New London, Wisconsin, has custom-built many Zeniths and is available to provide custom builder assistance at any stage of your project.
E-mail: pbuttles@charter.net
---
Tenn-Air offers professional builder assistance at its facilities in Shelbyville, Tennessee, specializing in the Zenith STOL CH 750. Tenn-Air (Tennessee Aircraft Development, LLC) is headed by the same principals behind Jabiru USA and Arion Aircraft, with extensive experience building light aircraft and with Jabiru engines. Tel. (931) 680-2800
---
Jeff Garrett of Louisville, Kentucky, has assembled several Zodiac series aircraft and performed the "upgrade kit" installation in numerous aircraft.
E-mail: afterfxllc@aol.com Tel: 502-644-8123
---
American Light Sport Aircrafters (Central USA)
This is a new Builder Assist Center near the Zenith Factory, located in Mexico, Missouri. Headed by Bill and Diane Carter, American Light Sport Aircrafters offers builder assistance facilities, component workshops, quick-build kits, and more. Whether you're a new builder, or need help in completing your existing project, call American Light Sport Aircrafters at 573-721-4400, or email them at bill@LightSportAircrafters.com and they will be happy to discuss your project with you.
---
Flight Crafters (Florida)
Flight Crafters' climate controlled facilities in Zephyrhills, Florida (near Tampa) has over 6,000 square feet of working and storage space. The Flight Crafters' Builder Assistance Center can help the kit owner to work efficiently and effectively. The kit owner will work in a climate controlled workshop, fully equipped with all the necessary tools and jigs on hand. In addition, you will have access to professional builder assistance when needed. Contact Bob or Russell at 813-779-1156 or 813-655-6411
---
IN CANADA: Unique regulations in Canada allow builders to contract for the professional assembly of kit aircraft; the Zenith CH 650B and STOL CH 750 and may also registered as Canadian "Advanced Ultralights" (no 51% rule). Zenair Ltd. has developed a network of "Build-Centers" across Canada specializing in custom assemblies of the Chris Heintz designs.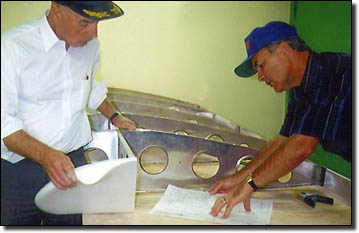 ---
Click here for details about FAA rules and regulations regarding kit aircraft, and for details about professional builder assistance.
Note: The above companies are not affiliated with Zenith Aircraft Company.
---