STOL CH 701 Formed Acrylic Windshield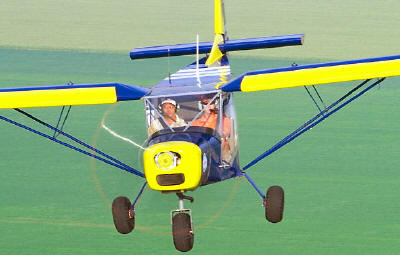 The STOL CH 701 kit comes equipped with a custom-formed acrylic windshield custom-manufactured by LP Aero Plastics. The formed .125" windshield provides additional sturdiness and durability over the previous flat Lexan windshield and is made from "Air Quality" acrylic meeting Federal Specification L-P-391. The new windshield is now supplied as standard equipment with the STOL CH 701 kit, supplied with a Spraylat strippable coating to protect the windshield in shipping, storage, and during installation to the airframe.
STOL CH 70-1 with the formed acrylic windshield and new domed bubble doors:
Note to builders of original STOL CH 701 models: The new acrylic windshield is not a required upgrade, but it can be easily retrofitted to existing STOL CH 701 aircraft. (The original STOL CH 701 windshield used a flat Lexan sheet that was wrapped around the front cabin frame).
Many STOL CH 701 owners keep their aircraft tied-down outdoors - after all, that's one of the advantages to owning an all-metal aircraft, and many STOL CH 701 pilots fly their aircraft from their own private landing field (without hangar facilities).
Quality canopy covers, such as the ones pictured below, help keep the windshield clean and scratch-free, while providing protection from the sun, rain and snow/ice.
Above cover from

Bruce's Custom Covers