NEW
ZODIAC CH 650
Cabin
Dual Sticks
Upholstery Kit
Engines:
Jabiru 3300
Continental O-200
Corvair
Lycoming
Rotax
Others

The affordable recreational kit airplane for the sport pilot: Enjoy leisure flights, with exceptional unrestricted visibility... operate from grass strips... make round trips of several hundred miles in a single day... Take your partner for a local pleasure flight, or to a far-off destination...

The Sport Pilot Ready Kit Plane from Zenith Aircraft Company!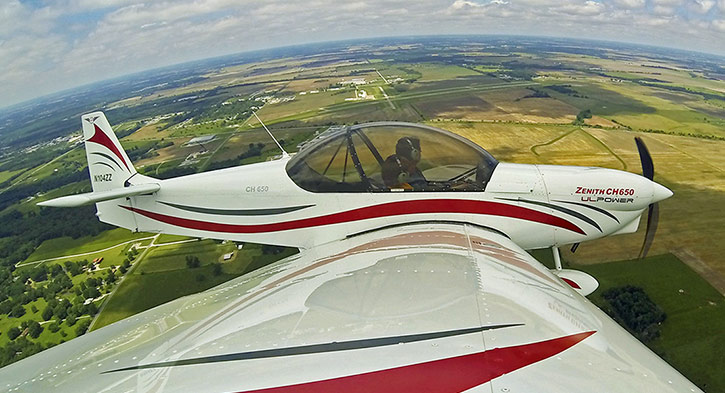 The Zenith CH 650: New and updated features with modern new styling
The Zenith CH 650 is a second generation light sport aircraft, developed specifically for Sport Pilots. It is the latest model in the Zodiac line of aircraft from aeronautical engineer Chris Heintz, first introduced in 1984. This newest model offers new and updated features including modern new styling with a larger cabin area. Some of the Zenith's features include:
Flight Review: Pilot magazine reviews the new Zenith CH 650:
"I liked the CH650 a lot ... it offers exceptional value for the money."
Read the full review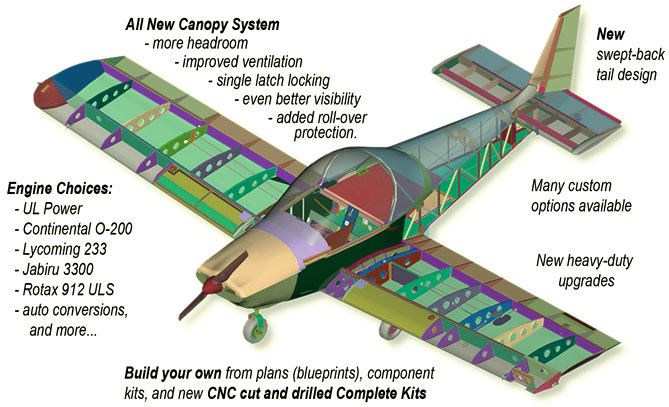 Flight Test Report: Steve Flattum flight tests and reports:

"
The CH 601 XL / CH 650 family of airplanes are a delight to fly. Simple and easy to fly with a great view and they are very comfortable for long flights. The airplane is very strong and it is backed by a company that has been around for a very long time."

Read the report


Custom instrument panel with dual Dynon SkyView multifunction displays
"...a playful, delightful airplane with side-by-side seating and a gorgeous bubble canopy. Handling is great, stability is pleasant, and the kit is very straight forward.
Highly recommended."
Based on the Zodiac CH 601 XL model introduced in 2001, the new Zenith CH 650 has been developed specifically to meet the FAA's Sport Pilot / Light-Sport Aircraft category, and offers maximum performance and capability possible under the new FAA category. With new and updated features and modern styling, the Zenith CH 650 replaces the Zodiac XL model.
Zenith CH 650 LSA, powered by the 100-hp Continental O-200 engine:
The lighter European Zenair CH 650 powered by the 100-hp Rotax 912 ULS engine: [ More Photos ]
New aircraft models, like the Zenith CH 650 and the new STOL CH 750, keep Zenith Aircraft Company at the forefront of the light aircraft industry. This newest model introduces refinements that compete directly with European imports in the Light Sport (LSA) marketplace, while still offering an exceptional value and choices, allowing builders to construct the CH 650 from complete kits, component kits, or even from plans-only, and offering kit builders a wide selection of engine choices to power their aircraft.

The October 2008 issue of EAA Sport Pilot & Light Sport Aircraft magazine reported the following:
The Chris Heintz-designed CH 600 Zodiac spawned a series of designs, each of them an improvement over the earlier iteration, and each became easier to build and more versatile in the air. The latest models, the CH 650 LS AND LSi, introduced at AirVenture 2008, combine the best of a European-built CH 601 XL sold as a ready-to-fly aircraft, the AMD CH 601 XL sold as an S-LSA, and the Zenith Aircraft Company's amateur built CH 601 XL kit.
The CH 650 is now offered to markets worldwide, with detail changes as needed to comply with governmental regulations. Eventually, the 601 XL will be phased out. The 650 is available as plans (with CAD drawings and assembly manuals), a complete kit (or a series of sub kits) from Zenith Aircraft, Mexico, Missouri, (www.zenithair.com), or as a ready-to-fly S-LSA from Aircraft Design Manufacturing & Design (AMD) (www.NewPlane.com) of Eastman Georgia.
The CH 650 LS's improvements include a more-convenient hinged clamshell bubble canopy, with dual tube 4130 roll-over protection. The new canopy keeps the traditional look of the Zodiac alive while adding headroom. (The new roll-over protection and redesigned canopy latching system are also available from Zenith Aircraft as an upgrade kit for existing Zodiac Owners.)
In deference to the CH 650 LS's anticipated role as a primary trainer, its landing gear is tougher and sports standard aviation 500-by-5 wheels and brakes. The gear system is bigger, making the aircraft taller, and the AMD main gear spring is gun-drilled, for cleaner, more protected brake line routing.
The rudder was redesigned and looks sleeker. The European wing angle is now standard on the 650 LS, with the trailing edge of the wing tilted down about 2 inches. Extra aluminum braces have been added to the fuselage sides and wings. The interior sports carpeting, and parts familiar to other Heintz-designed airplanes include the rudder pedals, the cowl, the nose gear strut, and firewall, all similar to the larger CH 640, CH 801, AND CH 2000.
Much work was done to the controls, which are now more balanced for better feel. "The 650 LS's airframe structure and flying characteristics are now more like an FAR 23 type aircraft," said AMD Sales Director John Degonia. "Flying schools and pilots who were looking at buying an FAR 23 aircraft have now committed to the 650."
The IFR airframe of the 650 LSi is based on what was required to certify the Alarus CH 2000 to FAR 23 Certification. The 650 LS is powered by a TCM (Continental) O-200 with Sensenich fixed-pitch prop. Performance and safety options include a BRS all-aircraft parachute system, AmSafe airbag-seat belts, full electric gyro instruments, and wheelpants.
In the experimental kit version, the CH 650's firewall-forward will accommodate a Jabiru 3300, Lycoming O-235 or -233, or Rotax four-cylinder powerplants as alternatives to the S-LSA version's TCM O-200.
With the Continental O-200 engine, the AMD 650 LS carries 30 gallons of fuel and has a useful load of 550 pounds. (With the Jabiru 3300, the useful load is 625 pounds, leaving a generous 481 pounds with full 24 gallon tanks.)
Panel Options run the gamut from basic VFR to a Dynon EFIS, TruTrak one- or two-axis autopilots, and many Garmin options, including a 430 system. The AMD CH 650 on display at AirVenture 2008 was equipped with the new EFD1000 Pro primary flight display system from Aspen Avionics and a WAAS-certified GNS 530W GPS/nav/comm by Garmin. Price of the factory-built 650 is just under $100,000.
From EAA Sport Pilot & Light Sport Aircraft magazine, October 2008
Note: We are currently updating our website to reflect the new Zenith CH 650. Note that most of the information contained on the Zodiac XL design is the same as that for the newer CH 650 model.

Simple and quick to build — easy and fun to fly!
The new Zenith CH 650 design offers superior performance and capabilities, comfortable side-by-side seating, affordable costs, and best of all, the Zenith is available as a durable all-metal kit that you can quickly build yourself - with just basic skills and tools.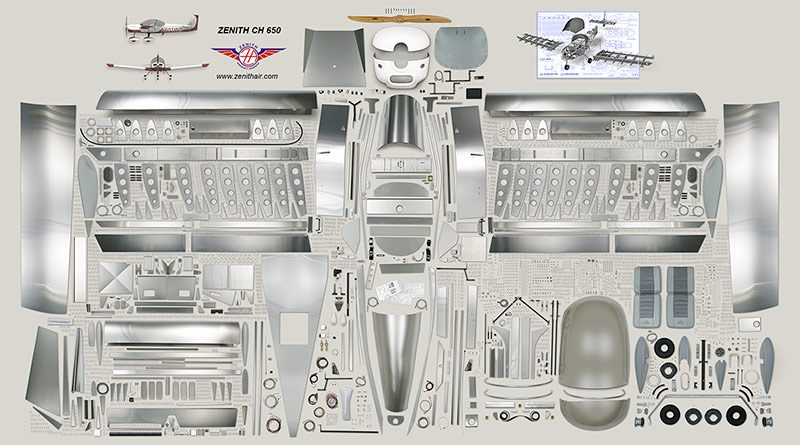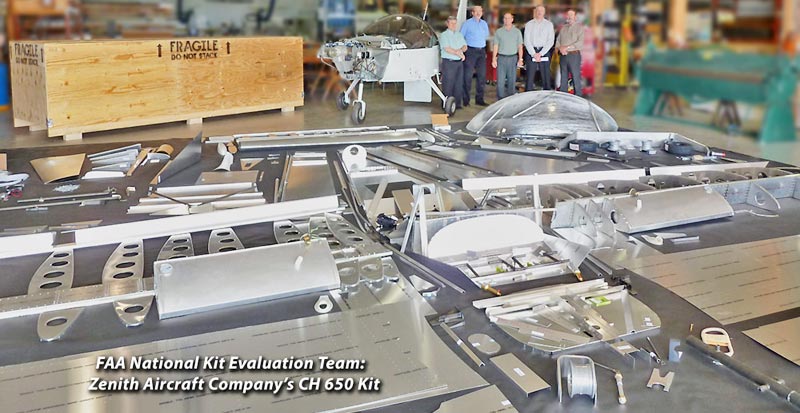 Above: The FAA's National Kit Evaluation Team (NKET) evaluates the
entire CH 650 kit inside the Zenith Aircraft factory (May 25, 2011)
Build your own CH 650 from: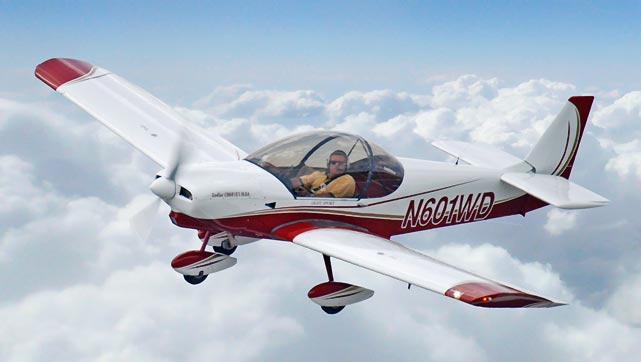 We invite you to come visit the factory in Mexico, Missouri to see how the aircraft kits are manufactured, go up for a demo flight (by appointment), and attend a factory workshop to gain hands-on kit building experience.
Zenith CH 650 News and Updates:


For the latest, v

isit the exclusive

ZENITH.AERO Online Community

for news and updates from

the factory as well as from

Zenith builder

s, owners and pilots from around the world.
Follow us on Facebook for exclusive updates (be sure to select "Get Notifications" to receive all of our daily updates):
Start building your Zenith for just $375 at a workshop or with the Rudder Starter Kit
Next hands-on workshops:

Check out Photos 2020 Zenith Homecoming | Timelapse Video | Slideshow Video

Video: Flying the Zenith CH 650
New for 2015: We've published a new Zenith Aircraft magazine, chock-full of information on building and flying your own Zenith. This free 48-page full color magazine provides an excellent introduction to the world of recreational flying and kit aviation, and covers all Zenith aircraft kit models, including the Zenith CH 650. Contact Zenith Aircraft Company to have one mailed to you.

How do we top last year's highly successful One Week Wonder project (where a complete Zenith CH 750 Cruzer was built in less than seven days at EAA Oshkosh AirVenture)?
EAA has announced their "Give Flight" project where five (5) complete sets of wings will be started during the week at Oshkosh by various EAA Chapters (to be taken home after the show to become part of a group-built airplane). We're thrilled that EAA has asked Zenith Aircraft to provide three sets of wings for the Give Flight project. Three new Zenith aircraft (two Zenith CH 750 Cruzers and one Zenith CH 650) will be started at Oshkosh this summer with the help of volunteers! If you're a Zenith builder (or want to learn) please join us in building and teaching others about the joys of aircraft kit building!
EAA Experimenter magazine (March 2015):
Bob Rychel's two Zenith planes: "Two Planes in Three Years"

"My CH 650 was a joy to build and is a joy to fly."

Five Zeniths CH 650 (and CH601XLB), all powered by Corvair engines, at the 2014 Zenith Open Hangar Day and Fly-In (September 20, 2014)
One Week Wonder at Oshkosh 2014

What an awesome week it was, where an entire Zenith kit was built in seven days, and then flown! Thank you to all who helped with this project, especially the volunteers and sponsors!
Photo album of the One Week Wonder project | First Flight Video | Volunteers at Work - Day 3 of 7 Video

Chris Heintz joined Zenair Ltd. to celebrate its 40th anniversary on Saturday, July 19, 2014 at the Zenair factory at Huronia Airport in Midland, Ontario, Canada.

Photos from the event: Facebook photos | More Photos

Video Clip:
A walk around the Zenith CH 650 Quick Build Kit (with the optional jigged canopy).

The CH650 can be built from plans-only, individual parts, component or complete kits, or from the Quick Build Kit.

Follow-Up: Photos from the 2013 Open Hangar Day (from September 20 & 21)

Video Clip: Fun flying in the the Zenith CH 650

More video clips: Subscribe to the Zenith YouTube Channel

First Flight Video: Zenith CH 650 B with the 130-hp ULPower UL350iS engine

Frank and Dave's completed Zenith CH 650-B with a UL 350iS 130-hp engine

Updated New X-Plane 10.20 Flight Simulator files for the Zenith CH 650 (now supports 64-bit computing!).

Fly the Zenith cruiser from your armchair!
View Screenshots | Video clip

New Video Clip:
Approach to the Sebring Sport Aviation Expo 2013 in the CH 650

On the cover of Volez! magazine (French Flying), Issue 177, February 2013. Cover story with a 12 page feature story on designer Chris Heintz and the Zenith CH 650 and the four-seat CH 640 cross-country cruiser.

On the cover of AVIASPORT magazine (from France), September 2012 issue, cover story: "Zenair CH 650E (European model): The latest light sport aircraft from Chris Heintz."

On the cover of CONTACT! magazine, Issue 105, cover story and joint "Zenith / Corvair" issue, with 8 separate articles on Zeniths. From the introduction by editor Pat Panzera: "Recognizing Chris Heintz and his family business is something I've wanted to do for a long time, and I can never get tired of publishing information on the Corvair [engine]. The two seem to have been made for each other, as do the efforts of William Wynne and Zenith"

Follow-Up from Zenith Aircraft Company's 20th anniversary / Open Hangar Day & Fly-In held this past September 21 & 22, 2012 video clip of the event
Video Clip:
Hear the 130-hp UL350iS engine on the Zenith CH 650 cruiser kit plane. The UL Power engine is a modern light aircraft engine: Direct-drive, air-cooled, electronic ignition and fuel injection, with FADEC (full authority digital engine control).
August 2012:
Zenith builder and pilot Earl Downs reports that he's just recently received a FAA Letter of Deviation Authority (LODA) to provide commercial training in the Zenith that he built himself: Earl is a CFI and a sport pilot designated flight test examiner who built a Zenith Zodiac CH 601 XL-B, and he is now approved for training in his Zenith. For more information Earl can be reached in the evening (central time) at 918-840-2200 or email (based out of Cushing, OK).

Video Flight Review

This is a new video clip from France of the new European CH 650 (powered by Rotax 912 ULS).

July 2012:
Zenith Aircraft Company introduces new Quick Build Kit (QBK) for the Zenith CH 650 to dramatically reduce assembly time and build complexity. Read more...

EAA AirVenture (Oshkosh) 2012 follow-up report. Five video clips and photos of the many Zenith activities at AirVenture 2012... Read more...

Video Clip from Zenith.Aero:

Flying on a Hot Day: Flight Testing the UL Power UL350iS Engine Cooling

The new Zenith CH 650 with the UL350iS engine, on the cover of Kitplanes magazine (June 2012) and Pilot magazine (May 2012):

KITPLANES magazine, June 2012 issue, cover story: "Simply Advanced" Cover story and flight review by Marc Cook, pages 8 - 17. "New to the CH 650 B is a canopy that provides excellent visibility even for tall pilots. It's a comfortable cabin for two..."

PILOT magazine, May 2012 issue, cover story: "Zippy Zodiac" Cover story and flight review by Dave Unwin, pages 26 - 32.

"I liked the CH650 a lot ...
it offers exceptional value for the money."

The new Zenith CH 650 with the UL350iS engine, on the cover of Spain's Avion & Piloto magazine (June 2012).

Flying the CH 650 with the new UL Power UL350iS engine cowl
Kitplanes on Facebook:

Kitplanes magazine photo previews of upcoming flight review of the Zenith CH 650 cruiser.

The UL Power Firewall-Forward (FWF) kit package from Zenith Aircraft Company. Shown here: The 130-hp UL350iS powerplant in the CH 650 cruiser.
New Video Clip:

Flying the Zenith CH 650 home from Sebring (Florida) to Mexico (Missouri)

New video report on Zenith from AircraftReporters.tv

Dan Johnson interviews Zenith Aircraft Company's Roger Dubbert about the full line light sport aircraft kits from Zenith, including details on Zenith's CH 650 with the UL Power UL350is engine installation.
Flying the CH 650 with the UL Power engine:
Flight and performance report
October 2011:
Zenith Aircraft Company and UL Power North America announce availability of complete firewall forward kits for the UL Power engine following the successful installation and testing of the 130-hp UL350iS powerplant in the CH 650 cruiser.
The new Zenith CH 650 demo aircraft equipped with a brand new UL350iS engine installation and prototype cowl. More new photos.
The July 2011 issue of Aviation Consumer magazine has a feature story / flight report on the CH 650 LSA: "Based on the CH601, the design is sporty and fast and has a new, beefed-up wing structure." Aviation Consumer editor Paul Bertorelli writes that "The CH650 has superb cockpit visibility... The baggage compartment, which is adequate if not generous, is an easy-to-access shelf behind the two seats. That makes it perfect for grabbing stuff during cross-country flight." He concludes that "...the CH650 seems like an honest, straightforward low-wing cruiser..." and that kit manufacturer Zenith Aircraft Company "stands behind what is designs and builds."
Excerpted from Aviation Consumer magazine, July 2011 issue, pages 13 - 16. Read more press reviews.
Zenith's new factory demonstrator CH 650 with UL Power's new powerful yet lightweight UL350iS engine: This four-cylinder, direct-drive air-cooled engine puts out 130-hp with an installed weight of just 172 lbs., and features full FADEC (full authority digital engine control) with multi-point electronic fuel injection and dual electronic ignition (with variable timing).
Click here for more details on this engine.

Hear it and see it! Click here to view a HD video clip.
The instrument panel of Zenith's

new CH 650 factory demo aircraft features dual Dynon SkyView glass panel multifunction displays. As a sleek cross-country cruiser, the autopilot will be a welcome feature in the CH 650 kit plane on long cross-country flights.
July 8, 2011:
Steve A. and Ron G. each picked up a complete kit of their favorite aircraft yesterday: A CH 650 for Ron and a CH 750 for Steve. Despite some rain, they loaded the two complete airframe kits in the Budget rental truck for the drive home to Detroit (where the two are GM engineers).
By picking up the kit at the factory, Steve and Ron saved both the crating charges and the freight charges, and they were able to share the rental truck fees, while also being able to visit the factory (for the first time) and go up in a demo flight in the aircraft.
June 2011:
FAA's National Kit Evaluation Team (NKET) visited the Zenith Aircraft Company factory to evaluate and determine that the CH 650 B kit meets the intent of the "51% rule," allowing an amateur-builder to register the plane as an "amateur-built - Experimental" (kit) aircraft (meeting the "major portion" requirement of Title 14, Code of Federal Regulations part 21, Certification Procedures for Products and Parts, § 21.191(g).
On owning and operating the Zenith CH 650 LSi:

"I initially considered the AMD CH650 because I wanted a special light-sport aircraft (S-LSA) that was approved for night flight and instrument flight rules (IFR). I like the idea of working with a U.S.-based company, and it turned out to be a good decision... As an instrument trainer, the CH650 is economical, stable and provides an approach speed that gives the student time..."
- Y. Forsyth, Gaithersburg, MD (Excerpted from EAA Sport Pilot magazine. December 2008).
European ZODIAC CH 650E model:

The European model of the new Zodiac CH 650 features a lower weight (to meet European ultralight or microlight rules) and the 100-hp Rotax 912 ULS powerplant.
Click here for the latest ZODIAC updates