| | |
| --- | --- |
| | |
| | The affordable recreational kit aircraft for the sport pilot: Enjoy leisure flights, with exceptional unrestricted visibility... operate from short grass strips... make round trips of several hundred miles in a single day... Take your partner for a local pleasure flight, or to a far-off destination (with overnight bags)... |
...EXPERIENCE IT ALL WITH THE ZODIAC.
`... turned out to be a delight to fly and land. Call it a BMW Z3 with wings. Cessna and Piper trainers are downright stodgy in comparison.´
- Popular Mechanics magazine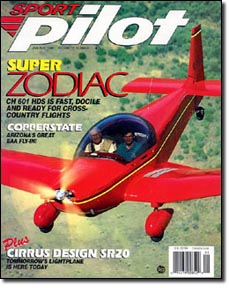 The ZODIAC is the answer to your dreams, offering you superior performance and capabilities, comfortable side - by - side seating, surprisingly affordable costs, and best of all, the ZODIAC is available as a durable all metal kit that you can quickly build yourself - with just basic skills and tools.
The ZODIAC is easy and affordable to build and fly, yet it's an airplane you won't easily outgrow. The ZODIAC is the perfect project for the first-time builder and the demanding sport pilot, bridging the gap between performance flying and affordable costs: Simple and quick to build; easy and fun to fly. Well suited for low-time pilots, the ZODIAC offers exciting performance and good cross-country flying capabilities. Loaded with standard features, the new ZODIAC models provide all-metal durability, first-class comfort for two large persons in a wide cabin, large baggage compartments, and much more. New complete kits reduce building time, requiring no special skills or tools to put together. Originally introduced in 1984, the ZODIAC design has a proven track record. It's fun and easy to fly even for the novice pilot, yet has capabilities and performance that will thrill the most experienced pilot.
| | |
| --- | --- |
| Ex-NASA chief Daniel Goldin checks out the ZODIAC and discusses the aircraft features with designer Chris Heintz at EAA AirVenture. | [Photo courtesy EAA] |
---
"...a playful, delightful airplane with side-by-side seating and a gorgeous bubble canopy. Handling is great, stability is pleasant, and the kit is very straight forward. Highly recommended."
-- US AVIATOR magazine

THE MODELS OF THE ZODIAC:
Choose the model with the performance and features you want in an airplane:
| | |
| --- | --- |
| | The ZODIAC CH 601 XL is the newest ZODIAC model, updated specifically for the Sport Pilot category. New features include a new wing design with flaps, a new canopy, and increased payload. Click here for details and specifications on the ZODIAC CH 601 XL. |
| | The ZODIAC CH 601 HD is the basic ZODIAC model, based on the original CH 600 aircraft developed in 1984 as a primary trainer. This heavy-duty (HD) model is stressed a full +/- 6 G's at design gross weight, and is suitable for most engine types ranging from 65 to 115 HP. Affordable, easy to build, and loads of fun for both novice and experienced pilots. Click here for details and specifications on the ZODIAC CH 601 HD. |
| | The sleek SUPER ZODIAC CH 601 HDS incorporates tapered speed wings, allowing the sporty ZODIAC to fly at a brisk 135 MPH on just 80 HP. Very affordable and efficient performance flying. Click here for details and specifications on the Super ZODIAC CH 601 HDS. |
| | The lightweight ZODIAC model, the CH 601 (UL) has been developed specifically for the Advanced Ultralight category in Canada and other applicable countries. This ZODIAC model is the ideal low-cost trainer or recreational aircraft. Click here for details and specifications on the ZODIAC CH 601 UL. |

Visit our huge Photo Library to see hundreds of pictures of completed ZODIACs and construction photos.
---