What?
A twin-engine kit aircraft?

A Twin-Engine Kit Aircraft?
The Gemini CH 620 project is still under development and kits are not available.
AVAILABILITY TO BE ANNOUNCED UPON COMPLETION OF DEVELOPMENT PROGRAM
While we've seen literally hundreds of new kit aircraft introduced to the sport aviation market over the past decade, no new twin-engine kit designs have been introduced successfully over this time. Cost and construction complexity made such kits too expensive to own and operate, while being overly complex and time consuming to build.

The GEMINI CH 620 is about to change all this… offering all the advantages that twin engines provide, while retaining the benefits of a kit aircraft, including low costs, easy construction, and superior performance. Based on the successful ZODIAC CH 601 series kit aircraft, the GEMINI draws on a proven design that is quick, simple and easy to build, and above all, is affordable to own and operate.
The availability of new light aircraft engines has finally made it feasible and attractive to use two engines instead of just a single. The Australian-made Jabiru engine was chosen to power the GEMINI because of its low engine weight to power, fuel efficiency, and affordable price, and because it's easy to install. Two 80-hp Jabiru engines cost about the same price as a 160-hp Lycoming or Continental engine, with similar fuel consumption.
The GEMINI CH 620 is the ultimate sport touring and cross-country aircraft. The twin-engine configuration promises:
Dual engine reliability
Low noise (dB) level
Superior Forward Visibility
Increased Cabin and Baggage Areas.
A twin-engine aircraft represents more than just additional power: The utility of a twin-engine aircraft increases – where night, weather and altitude travel take on added meaning and versatility – where flights over long distances are more likely to encounter varying weather conditions.
Increased payload capability makes the GEMINI a true cross-country aircraft for extended overnight trips, and additional panel space (especially space behind the panel) allows for custom avionics installation for full instrument flight operation.
---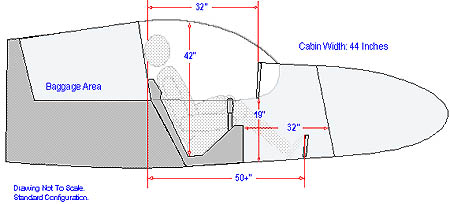 ---
Features the GEMINI will borrow from the ZODIAC CH 601 line include:
Proven Easy-Build All-Metal Construction
Comfortable Side-by-Side Seating
Full Dual Controls
Outstanding 360-degree Visibility (Bubble Canopy)
Excellent short and rough field capability
High Useful Load
Delightful and Responsive Controls
Complete Quick-Build Kits
Designed by aeronautical engineer Chris Heintz, the GEMINI CH 620 is far from being a novice's first design. Through Zenair Ltd., Heintz has introduced more than 12 successful new light aircraft designs since 1974. His most recent design is the FAA type-certificated ZENITH CH 2000 aircraft. Heintz brings design innovation to sport aviation, while developing aircraft that are designed specifically for the novice builder and recreational sport pilot.
Key design considerations of the GEMINI CH 620
LOW COST: Realizing that high costs have been the major drawback to owning a twin, designer Chris Heintz developed the GEMINI on the basis that it would be truly price-competitive with other single-engine light aircraft.
The newest model in the ZODIAC line of aircraft, the new GEMINI uses the same low-cost all-metal airframe construction techniques as the popular ZODIAC CH 601 series and other Heintz designs, including the newly type-certificated ZENITH CH 2000.
Engines: The Jabiru 2200 engine was selected as the power source for the prototype GEMINI in part due to the low purchase and operating costs of these new aircraft engines. Two factory-new Jabiru engines cost about the same price as a 160-hp Lycoming or Continental powerplant.
CONSTRUCTION SIMPLICITY: The GEMINI follows in the twenty-two year Zenair tradition of "builder friendly" construction with a kit that is quick and easy to build.
The GEMINI kit is complete, supplied with all parts and components needed to finish the airframe.
Emphasis is placed on modular construction that doesn't require the use of assembly jigs or fixtures (only a flat workbench).
Quality parts and components: pre-formed, inspected and made only from the finest materials available.
Simple Tools
Quality assembly instructions developed for the novice builder, and not an experienced engineer
Customer Support: Free life-time technical support to every builder directly from the factory. Additional customer service features include a builder newsletter and new Internet support (including home pages for technical publications, builder listings, and automated email list forums).
SIMPLE TO FLY: While the twin-engine GEMINI is more complex than a fixed-gear single-engine design, it features an ergonomic cabin design and control systems to lower pilot workload. Docile, yet responsive, handling characteristics and a low stall speed make the GEMINI easy and fun to fly. The heavy-duty gear, outstanding visibility, and good cross-wind capability further add to the pilot-friendly features of the GEMINI CH 620.
RELIABILITY: The GEMINI was developed to offer unrivaled dependability in kit aircraft. Twin engine reliability, professional design, durable and proven all-metal construction, simple systems, and ease of maintenance make the GEMINI a truly reliable kit aircraft. The newest model in the ZODIAC line, the GEMINI borrows many tried and true features from the CH 601 kit series.
PERFORMANCE: The GEMINI offers real cross-country performance speed and endurance, while being simple and fun to fly on short recreational flights. A superior rate of climb further adds to the utility of the design. Performance is achieved through design efficiency by providing maximum performance while minimizing fuel consumption.
UTILITY: The GEMINI offers many features to complement its role as a personal touring aircraft:
High useful load
Large baggage compartments
Cabin comfort in a spacious side-by-side seating arrangement
Outstanding visibility from the bubble canopy
Ability to operate from short rough fields
Superior altitude performance
Suitability for continuous outdoor storage
---
"The truest gauge by which to measure the quality of a kit and its kit manufacturing company are the number of its satisfied customers, the fine flying characteristics of all its finished aircraft, and the dedicated after-purchase support provided by the factory.
"By all these standards and many others too numerous to mention, Zenith Aircraft Company's excellent reputation is well deserved. We heartily recommend to every prospective homebuilt kit buyer that he or she seriously consider the excellent aircraft produced by Zenair, a company we've always found to be competently and professionally managed by genuinely qualified, dedicated people."
- Norm Goyer, editor, SPORT PILOT magazine
---
© Zenith Aircraft Company: 2004-07-14