There's a new gem in the sky...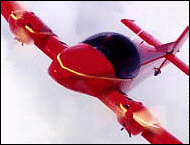 Take a Virtual Tour of the GEMINI CH 620
The Gemini CH 620 project is still under development and kits are not available.
AVAILABILITY TO BE ANNOUNCED UPON COMPLETION OF DEVELOPMENT PROGRAM
The ultimate sport aircraft for the pilot who wants it all, the Gemini offers twin engine performance and reliability in a kit aircraft that's affordable, easy to build, and thrills to fly. Developed by aeronautical engineer Chris Heintz for the first-time kit builder, the Gemini design is the newest aircraft based on the successful ZODIAC kit plane line - now in its sixteenth year of production.
PROTOTYPE PHOTOS:
Click on image for full size picture:
A twin-engine aircraft represents more than just additional power: The utility of a twin-engine aircraft increases – where night, weather and altitude travel take on added meaning and versatility – where flights over long distances are more likely to encounter varying weather conditions.
Increased payload capability makes the GEMINI a true cross-country aircraft for extended overnight trips, and additional panel space (especially space behind the panel) allows for custom avionics installation for full instrument flight operation.
---
The ultimate touring aircraft - for island hopping or mountain flying.
---
Twin Engine Reliability
All-Metal Construction
Roomy Two-Seat Side-by-Side Seating
Retractable Landing Gear
150+ mph Cruise
Easy-Build 'ZENAIRTM' Kit
Price & Economy of a Single Engine
Bubble Canopy for Outstanding Visibility
---

---
The Gemini CH 620 project is still under development and kits are not available yet.
AVAILABILITY TO BE ANNOUNCED UPON COMPLETION OF DEVELOPMENT PROGRAM
---
© Zenith Aircraft Company: 2008-01-02