Zenith Aircraft Company
at EAA Oshkosh AirVenture
- Photo Summary -
NASA adminstrator Daniel Goldin checks out the Zodiac at EAA AirVenture 1999.
Designer Chris Heintz discusses light aircraft design with the head of NASA (1999)
[Photo courtesy EAA]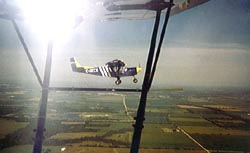 Flying the STOL CH 801 and STOL CH 701 in formation to Oshkosh from Mexico, Missouri.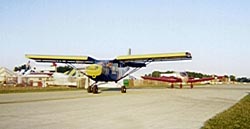 The STOL CH 801 and ZODIAC arrive at Oshkosh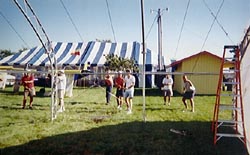 The Zenith Aircraft staff lend a hand in erecting the display tent.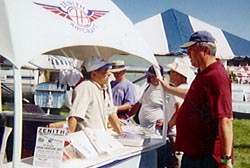 Nicholas Heintz answering builder questions.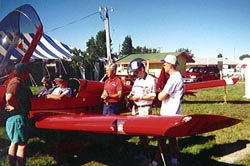 Trying on the ZODIAC for size.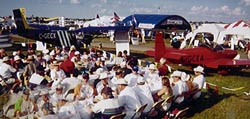 The popular Zenair Builder's Dinner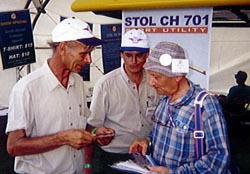 Designer Chris Heintz talking with a builder.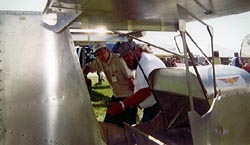 Checking out the STOL CH 701 construction.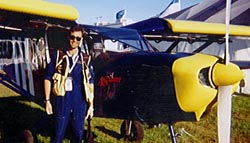 Danny Manno of Aviazione Sportiva magazine (Italy) evaluated the STOL CH 801's performance in a test flight.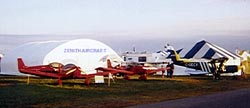 6:00 am at the Zenith Aircraft booth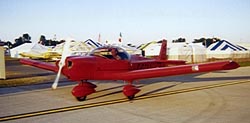 Designer Chris Heintz getting ready to fly the ZODIAC home after a busy week.
---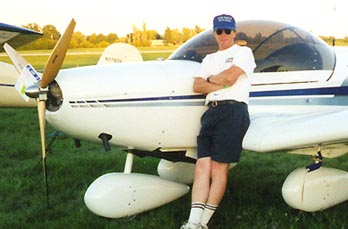 Email Excerpt...
To the Great Folks at Zenith:
My wife and I very much enjoyed seeing the "troops" at your display area at Oshkosh. The dinner was a great opportunity for all of us to get together. It is a most welcome, enjoyable event. It was a great addition to our experience. It is a personal touch that is missed by most manufacturers.
Having been parked a little remote out by the Ultralights, it was a little hard for people to find us. But a lot of builders and non-builders stopped by the airplane for a look. A few even tried out the cockpit for size and comfort.
I hope to be able to make the trip out from Connecticut next year to Oshkosh again, or I might just skip it and go to the Open Hanger in Mexico, Missouri instead. Either will be fun, I expect.
Wayne Beattie, N601WB, 100 hours and enjoying every minute.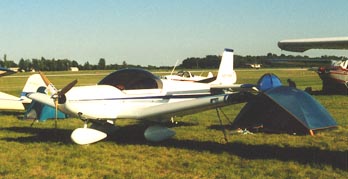 ---
EAA AIRVENTURE OSHKOSH is the world's largest sport aviation event, annually drawing more than 800,000 people and 11,000 airplanes to Wittman Regional Airport in Oshkosh, Wisconsin. As usual, Zenith Aircraft Company was displaying its line of kit aircraft at the week-long convention. Company staff was available to answer questions, and designer Chris Heintz was at the Zenith Aircraft pavilion throughout the week.
Once again, we were located in the North Aircraft Display area (booths #424, 425, 430 & 431):
Legend:
1 - Warbirds
2 - North Aircraft Display
3 - Forum Tents
4 - Workshops
5 - Fly Market
6 - FAA Tower
7 - Exhibit Hangar C
8 - Exhibit Hangar A
9 - Homebuilt Flightline
10 - West Ramp
11 - East Aircraft Display
12 - Main Aircraft Display
13 - Exhibit Hangar B
14 - Exhibit Hangar D
15 - Theater
16 - Antique Aircraft
17 - Ultralight Aircraft
---
Photos from past years...

Trying out the ZODIAC CH 601 for size...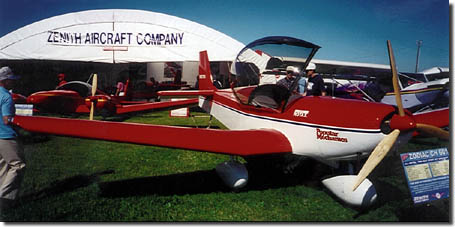 The Zenith Aircraft pavilion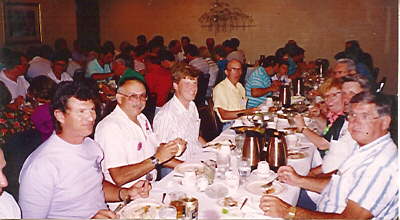 The popular Zenair Builders Dinner
[Back]
© Zenith Aircraft Company
2005-07-11
---