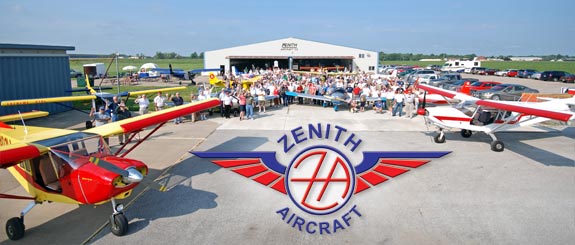 *** Click here to view photos from the 2013 Open Hangar Day ***
Beginning on Friday, September 19, we have many activities planned, including a series of hands-on educational and informative workshops for existing Zenith owners and builders, as well as for new builders just getting started (or just thinking of starting their own kit aircraft project).
As in years past, we'll be hosting a number of educational seminars (all day on Friday). These free seminars are for existing and new Zenith builders, owners and pilots. Here is the tentative schedule: Friday, September 19, 2014:
9:00 - 10:30 am
Rotax 912iS engine and installation (Rob Seaton, Rotech Research Canada), UL Power hangar
Transition Training & Sport Pilot (Buzzy Devoll, Buzz Air Flight Academy), Airport Terminal
10:00 - 12:00 pm:
Introduction to Building Your Zenith Aircraft (Zenith staff, Zenith factory)
10:30 - 12:00 pm:
Dynon SkyView glass panel display (Kirk Kleinholz, Dynon Avionics), UL Power hangar
Jabiru Aircraft Engines (Pete Krotje, Jabiru USA), in front of Zenith factory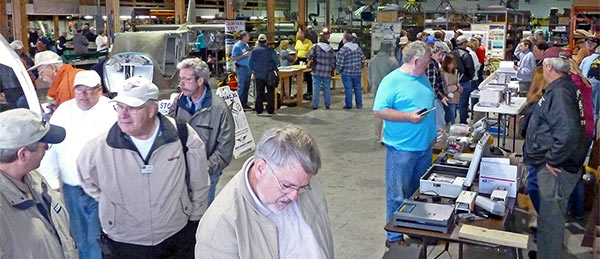 Noon - 1:00 pm:
Lunch (BBQ lunch will be available for purchase)
1:00 - 2:30 pm:
EAA Update (Charlie Becker, EAA), UL Power hangar
UL Power engines (Robert Helms, UL Power North America), in front of Zenith factory
Light Aircraft Electrical Systems (Wayne Lanza, Composite Design), Airport Terminal
2:30 - 4:00 pm:
Garmin G3X flight display system (Garmin Avionics), UL Power hangar
Continental O-200-D engine (Kim Winner, Continental Motors), in front of Zenith factory
Aircraft Inspection and Ongoing Airworthiness - Condition inspection of the One Week Wonder Aircraft (Zenith staff) Zenith factory
4:00 - 5:15 pm:
Engine Panel Discussion: Engine representatives from Continental, Corvair, Jabiru, Rotax, UL Power, and Viking will share information about their respective engines, and a short panel discussion will follow discussing fuels, future developments, and more!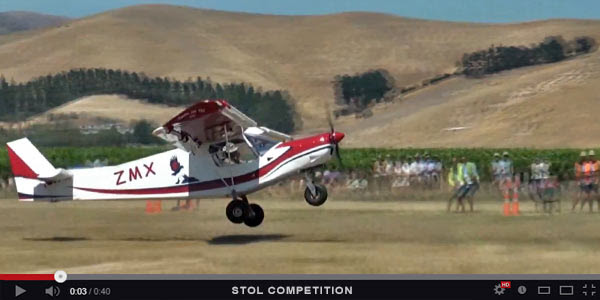 STOL Competition! For the first time ever we will host a short take-off and short landing (precision) competition and demonstration, from 3 - 5 pm on Friday afternoon. We will have a high-wing (STOL) and low-wing (Zenith) category, with more details and rules coming soon. This is a very informal "competition" - we encourage everyone who flies in to participate! There will be prizes and awards to participants, presented at the Zenith banquet. This event is sponsored and coordinated by American Light Sport Aircrafters.

If you're not a Zenith builder or owner yet, we invite you to participate in our hands-on kit building workshop to be held on September 17 & 18 in the Zenith kit aircraft factory (this is immediately before the September 19 & 20 Open Hangar Day activities and seminars). Spend a couple of days in the factory learning and gaining hands-on experience by building the rudder tail section of the Zenith model of your choice, and also go up for a demo flight and tour the factory. More info on the workshop.

Zenith factory demo aircraft with new Quick Build Kit assemblies
Once again, we have scheduled an informal "Zenith banquet" dinner and social gathering on Friday evening, after the Friday seminars and before the Saturday Open Hangar Day.
The Zenith Banquet will be held at the 6 pm on Friday, September 19, at the Mexico Elks Club next to the airport [map]
RSVP now for the banquet (and for workshops and seminars).
PURCHASE your tickets for the Banquet

6:00 - 9:00 pm, Friday, September 19, 2014:
Zenith Builders Banquet at the Elks Lodge (right next to the airport). This is an informal social buffet dinner gathering of Zenith enthusiasts, builders, pilots and employees. Cost: $20.00 per person. RSVP. Cash bar opens at 5 pm.
The Zenith Banquet dinner will feature a special program about the One Week Wonder Zenith kit project from Oshkosh 2014. Charlie Becker from EAA will talk and share photos about the wildly successful project that was a highlight of EAA Oshkosh AirVenture.
---

Zenith builders show off and share their new creations at the fly-in gathering.

Saturday, 8 am - 3 pm: The Zenith Aircraft kit production facilities will be open for factory tours and Zenith's factory-demonstrator kit aircraft will be on display. Company staff will demonstrate kit production and fabrication techniques used in producing the all-metal kit aircraft parts made at the Zenith Aircraft factory, including cutting and pre-drilling kit parts on the CNC router, forming and hand finishing wing ribs and other kit parts, and aircraft aluminum welding demonstrations. We'll also have aircraft kits and parts on hand, and, once again, we'll offer visitors a chance to build their own small sheet-metal project in the Zenith factory (see below).
Starting at 9 am we will have a number of short informal seminars about building and flying your aircraft.

Group Photo: Zenith Open Hangar Day - September 21, 2013
Join us at 10:30 am in front of the factory for the annual Zenith Aircraft Company Open Hangar Day Group Photo. Everyone is welcome!
If you volunteered on the One Week Wonder project at Oshkosh AirVenture 2014, join us for a group photo with the One Week Wonder airplane. (Make sure to bring your Volunteer T-shirt from Oshkosh for the photo!)
Participants and activities include:
Hands-on Workshop: Visitors will be given the opportunity to "build their own" aircraft-aluminum project inside the Zenith kit factory.

Attend the "Zenith rudder factory workshop" on September 17 & 18 prior to the Open Hangar Day activities at the factory!

Experimental Aircraft Association Charlie Becker, EAA's Director of Communities & Homebuilt Community Manager, plans to attend with the One Week Wonder airplane, and will share info on EAA's available resources to help builders, owners and pilots of amateur-built aircraft, including the technical advisor and flight advisor programs, and he will provide an update from EAA.

Dynon Avionics will demonstrate the newest available glass panel technology, including the SkyView Touch and Pocket Panel portable EFIS, and the SkyView COM Radio and Two-Place Stereo Intercom.

Continental Motors will attend to meet with builders and show the lightweight O-200D engine, a popular engine choice with many Zenith builders.

Continental Motors will serve a complimentary "Continental Breakfast" on Saturday morning.

Garmin Avionics will be on hand to show the latest Garmin products for light aircraft including the new G3X flight display system. A factory representative will be on hand to answer questions on installing and operating Garmin avionics in Zenith aircraft.

Buzz Air Flight Academy (located in Tennessee) will be attending to discuss Sport Pilot flight training as well as transition training to Zeniths. The flight school operates a ZODIAC CH 601 XL-B / CH 650 S-LSA aircraft and a Zenith STOL CH 750 S-LSA.

Buzzy Devoll plans to attend with a STOL CH 750 SLSA, and will be available for transition and flight training with the aircraft. Contact Buzzy to schedule: 775-841-5429

UL Power North America will be on hand to represent the new generation of light aircraft engines. The UL Power aircraft engines are direct-drive air-cooled lightweight engines featuring full FADEC technology (with fuel injection and electronic ignition).

Free catalogs from Aircraft Spruce & Specialty will be available, and the homebuilders and pilots superstore is donating a number of great door prizes to be awarded at the Zenith Builder Banquet on Friday evening prior to the Open Hangar Day.

Jabiru USA, distributor of Jabiru engines, will be on hand to answer Jabiru engine installation, operation and maintenance questions.

American Light Sport Aircrafters is a builder assistance center located in Mexico, Missouri. It was established to help builders get their kit project completed and flying sooner, and to provide kit assembly facilities to builders who do not have the needed space.

American
Light Sport Aircrafters

Corvair Engine guru William Wynne of FlyCorvair.com will attend to show the affordable Corvair auto conversion installation popular on many Zeniths

FlyCorvair will host "Corvair College #30" right before the Open Hangar Day in Mexico, Missouri.

Viking Aircraft produces a low-cost Honda-based 110-hp engine, and offers complete firewall-forward packages of the engine for installation in Zeniths.

HomebuiltHelp.com offers a complete line of "how-to" videos available on DVD, and will have the popular DVDs available for preview and purchase.

George & Martha Happ from Matco Mfg., maker of light aircraft wheels and brakes used on many Zeniths, will be on hand to discuss the company's products and how to best install and operate them on your Zenith.

Wayne Lanza of Composite Design will showcase the company's new Light Sport Power Panel used by Zenith Aircraft Co. and supplied in the Zenith instrument panel kit.

Aviator's Hotline is your go-to resource for buying or selling a used aircraft. A company rep will be on hand to meet with aviation enthusiasts.

Zenith Aircraft kits, options, and parts will be on display and available to order.

Customer Projects: Existing Zenith Aircraft builders and owners enjoy sharing information and details about building and flying their aircraft, and will be available to discuss construction, finishing (paint, upholstery, avionics, alternative engines, etc.) and flying their aircraft creations. Builders and pilots: Bring your photos to share with fellow builders, and let us know if you would like some indoor space for a display or presentation.
Other products and services for Zenith builders and flyers. (Contact us if you are interested in showcasing products or services that are of interest to Zenith builders and flyers).
Factory demonstrator aircraft:
The new Zenith CH 750 Cruzer and the popular Zenith CH 650, STOL CH 701, and STOL CH 750 factory demonstrator aircraft will be parked at the factory. Demonstrations flights may be available by prior arrangement only.
Food and refreshments will be available at the airport: There will be a hot lunch available for purchase at the airport on Saturday.

Note: Zenith will be holding a Rudder Workshop on Thursday and Friday prior to the Open Hangar Day activities.
Accommodations: Due to the large number of visitors to Mexico on September 19 & 20, local hotels may fill up quickly. There are numerous additional hotels in the general area, as well as camping sites. Click here for additional information on accommodations.
We can help you to carpool if you are flying in and need a ride to and from a local hotel. Let us know how we can help you.

If you can't reserve a hotel room nearby, we invite to come and camp with us! We have plenty of space for your tent or camper on Thursday, Friday or Saturday night. You don't even need to bring your own tent: Padre's Cycle Inn (owned by our good friends at American Light Sport Aircrafters) will set up a tent for you (including air mattress and chair!). Call Craig for details: 573-721-6440.
Note also that the Mexico Airport has a 24/7 access restroom with shower.
Zenith Builders and Pilots:
Owners of completed Zenith Aircraft are encouraged to fly-in for the activities and to show off their completed project to fellow builders (we will provide tie-down space and help facilitate ground transportation if possible). Mexico's airport (KMYJ) offers 24-hr self serve fuel at competitive prices, and has a new terminal building with 24 hour access to the pilot lounge (with showers and internet access!). Let us know of any special needs or requirements.
If flying in, please bring your own aircraft tie-downs, especially if staying overnight. Zenith owners: please park your airplane as close to the Zenith factory as possible on Saturday. We'll try to position and group all Zeniths in front of the factory for the group photo at 10:30 am. If driving in, please bring yourself a folding (lawn) chair if possible. We will have chairs and picnic tables, but we sometimes run out...
There is no charge to attend the Open Hangar Day or any seminars, with the exception of the banquet dinner on Friday evening. Check this page for the latest updates and schedule. Please contact us if you have ideas, requests or capabilities to make the Open Hangar and Fly-In Gathering both a fun and educational event.
Note to builders: You can arrange to pick-up parts and kits at the Open Hangar Day if the parts have been ordered, paid for and confirmed prior to the Open Hangar Day.
Hundreds of builders and enthusiasts attended last year's Open Hangar Day in Mexico, Missouri. The gathering is an excellent opportunity for owners and builders of Zenith Aircraft kits to meet each other and to tour the Zenith Aircraft facilities.
Located in scenic mid-Missouri, all pilots and aviation enthusiasts are invited to drive or fly in to attend Zenith Aircraft Co.'s annual 'Open Hangar and Fly-In' day. For more information on attending, please call Zenith Aircraft at (573) 581-9000 or the Mexico Airport at (573) 581-0162.
---

Photos from previous Open Hangar Days.

Photos from past events:

Discussing engine installations.
Seminar on

inspecting a Zenith aircraft prior to first flight, and how to adequately preflight your aircraft before every flight. This seminar included an actual inspection using a itemized checklist.

Typically several dozen Zeniths fly-in for the Open Hangar day activities.
Workshops and seminars kept builders busy all day.
Owners of completed Zenith Aircraft flew in for the activities and to show off their completed projects to fellow builders.
Builders and their planes pose in front of the Zenith factory for the traditional group photo: Join us and be part of our annual Zenith Group Photo at 10:30 on Saturday morning. We'll try to include as many Zeniths as possible in the group photo.
Workshop on building your own Zenith from plans-only, covering the tools, materials and skills needed to build your own Zenith plane from just a set of blueprints (as opposed to the kit).
Builders were given the opportunity to "build their own" all-metal binder for the Zenith plans set.
---
---
More Info:
Click here to purchase new Zenith apparel (t-shirts and hats)
Related Info:
Note: All scheduled events and times are subject to cancellation or change without prior notice.
[Back]