NEWS RELEASE
For Immediate Release
February 2001
For More Information:
573-581-9000
INDIA ORDERS 85 STOL CH 701 AIRCRAFT FOR FLIGHT TRAINING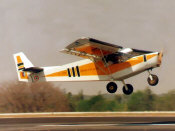 2/2001: BANGALORE, INDIA -- The National Cadet Corps (NCC) of India, a para-military branch of the Indian Air Force, has started taking delivery of STOL CH 701 aircraft for flight training use at 47 training sites covering all of India. To date, 25 aircraft have been delivered to the NCC in the first phase of the 85 STOL CH 701 aircraft ordered, with an option for an additional 48 aircraft.
One of the mandates of the NCC is to expose students to flying and flight training to increase the supply of pilot recruits to the Indian Air Force. The NCC has training facilities on 47 airports in India, and plans to have 2 to 3 STOL CH 701 aircraft at each flight training site.
The STOL CH 701 aircraft won the worldwide tender based on the exceptional flight performance of the design, the aircraft's proven history and dependability, low maintenance, suitability for flight training, and the capacity to deliver quality aircraft at reasonable prices. In addition, the STOL CH 701 has proven itself in hot weather operations though a UN poaching patrol project in Africa and numerous applications around the world.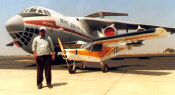 Prior to awarding the multi-million dollar contract, the Indian test pilot school, Aircraft & Systems Testing Establishment (ASTE), conducted a strenuous six-month flight and design test program of the STOL CH 701 to confirm the specifications before passing and recommending the aircraft to the NCC.
The STOL CH 701 is a light two-seat all-metal short take-off and landing (STOL) aircraft. The aircraft is built of conventional all-metal construction for maximum durability, and the design features fixed leading-edge wing slats and full-length trailing edge flaperons for maximum short-take off and slow flight capability. Large tires and a spring gear provide excellent rough field capability. First introduced in 1986, the STOL CH 701 aircraft continues to gain recognition around the world as a low-cost light-utility aircraft. Nicknamed the "Skyjeep" by African missionaries, the popular aircraft is earning its keep by transporting personnel and medical supplies to remote African villages. Additional utility applications of the light aircraft include crop spraying, banner and glider towing. Optional floats add to the utility of the STOL design. In 1999, designer Chris Heintz introduced the four-seat STOL CH 801 – a larger version of the two-seat model with a 1,000 lbs. useful load – to increase the utility of the original STOL design.
Zenith Aircraft Company of Mexico, Missouri manufactures the kits for the STOL CH 701 design. More than 1,000 kits have been delivered, and over 500 are now flying – the vast majority of them outside the U.S. The low stall speed of the lightweight STOL CH 701 will easily qualify it for the proposed FAA Sport Plane category.
---
---
For further information:
Zenith Aircraft Company
Mexico Airport, Mexico, Missouri 65265-0650 USA
Tel: 573-581-9000
Fax: 573-581-0011
E-mail: info@zenithair.com
---
[Back]