News updates from India:
---
Excerpt from THE HINDU (Online edition of India's National Newspaper):
Bangalore in limelight in Air Race
Bangalore, Nov. 26, 2003:. Audrey Muban from Bangalore was the only woman pilot to fly a microlight solo in the Air Race India 2003 which concluded in Nagpur on Sunday. The most talked about machine was the Zenair CH 701 manufactured by Agni Aero Sports Adventure Academy of Bangalore. Shiv Singh who won the race in the microlight category was the pilot of this aircraft.
The civil registered Zenair CH 701 flown by Neelu Parashar along with Hitendra Tapen during the race from Pune to Goa and from Goa to Nagpur without any technical support team, is said to have demonstrated the quality of the aircraft. According to aviation experts, the CH 701 has low operational costs and flexibility to land on regular airfields or rough and gravelled fields, meadows, and even water.
Agni Aviation of Bangalore has other records. In 1984, it set up the first aviation academy in the region and is involved in the manufacture of all kinds of metal recreational aircraft. It has delivered some of its aircraft to NCC, flying clubs, and aviation enthusiasts. It was also the first to start a skydiving school for civilians.
---
A thrilled NCC cadet Smita Patil climbs down from her Zenair micro-light aircraft after finishing the race. Smita, who is a second-year BSc student from Belgaum and belongs to the 8 Karnataka Air Squadron, was co-pilot to Wing Commander T S Chauhan.
The air race was yet another testimony that women can match, and even beat, their male counterparts on every count. Completing the 900 nautical mile air race were 15 girls from the National Cadet Corps who acted as co-pilots. Each had over 100 hours of flying experience.
---
This from the Times of India (Jan 13, 2003):
Shalav Saran was recently selected as the first NCC cadet in India to fly a Zenith CH 701 microlight aircraft in competition - at the national level. Shalav had won a bronze medal at the Vayu Sainik air competitions held at Bangalore shortly beforehand.
Regarding the events, the young pilot claimed: "competition was really tough". As many as 65 cadets were selected from the four squadrons across UP for various flying tests held in two phases.
Contestants from the country's 15 directorates demonstrated their flying skills during the finals. In the end, Shalav was selected to represent UP at the national level. This is the first time that NCC cadets have the opportunity to fly microlights aircraft at the compretition. "Earlier, only gliding competitions were hosted by the Vayu Sainik camps," said Mr. Saran.
---
November 23, 2003: STOL CH 701 wins air race in India: Click here for details.
---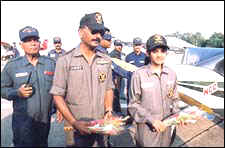 Air Race India 2003 (Nov. 19-22) was a gruelling 900 nautical mile air race, held across India to mark the hundredth anniversary of powered flight. Anand Bhisey reported the following in The Rediff Special:
"...A total of 43 aircraft of different makes, styles and colours took off from three points in the country -- Goa in west zone, Kolkata in east zone and Bangalore in south zone -- to converge simultaneously at Nagpur...
Fifteen girl cadets from various air squadrons of the National Cadet Corps. (NCC) along with 15 boy cadets participated in the race as co-pilots -- each one navigating for the pilot during one stage of the race...
Air Commodore M S Jauhar, Deputy Director General of NCC, said the cadets were put through a stringent selection process for entry. The NCC, he said, had entered three aircraft in each leg -- all Zenair [STOL CH 701] microlights..."
---
Excerpt from a story by Rasheed Kappan in THE HINDU (Online edition of India's National Newspaper)
"First Karnataka Air Squadron: A story of achievements" BANGALORE July 27, 2003:
"…a Zenair Microlite (CH 701) was added [to the squadron's fleet] three years ago. Today, the squadron has three Zenair microlites and a glider. From its modest beginnings, the squadron has advanced to record an average of 1,500 glider launches and 400 hours of microlite flying in a year. "Over the last two years, all 450 junior division troops have had air experience in the [STOL CH 701]," Wg. Cdr. Kumar said.
---
| | |
| --- | --- |
| | "Headed by Wg Cdr GK Sachdev and assisted by Sqn Ldr Rakesh Singh, No 5 Air Squadron NCC (UP) has been training and motivating over 1200 NCC cadets on its roll. In the last quarter of 2001, it imparted to 300 senior cadets the experience of flying, airmanship, airfield and basic effects of control in the Zenair CH701 microlight aircraft which the Squadron acquired last year." - Maj Dhirendra Ojha from Lucknow |
---
Related Info:
---
[Back]