Microsoft Flight Simulator 2002 Files

Fly the ZODIAC from your PC!
Download the following free FlightSim files.
The files are provided in compressed "zip" format. Needless to say, the simulated versions of the Zodiac aircraft may not be representative of actually flying the real thing - and we're not responsible for accidents! (Note: Microsoft Flight Simulator 2002 is required to run these flightsim files - these files are not a standalone flight simulator).
Required Files: The following two files are required for all Zodiac models
File size
Zodiac Instruments - necessary for instruments on the Zodiac panel
311 kb
Zodiac "Panel" folder (all Zodiac variants require this "panel" subfolder to be placed in each aircraft's folder)
898 kb
Aircraft Configurations & Paint Schemes:
ZODIAC XL, tricycle landing gear, 3 color schemes (9/2002)
Includes front-opening canopy - which uses the spoiler key (that's the backslash "/" key) to open and shut the canopy. Taildragger.
544 kb
Zodiac CH 601 HDS, tricycle landing gear , 3 color schemes
492 kb
Zodiac CH 601 HD, tricycle landing gear, 6 color schemes
804 kb
Zodiac CH 601 HD on Amphibious Floats, 5 color schemes
679 kb
Zodiac CH 601 HDS, taildragger, 3 color schemes
467 kb
Zodiac CH 601 HD, taildragger, 5 color schemes
694 kb
---
Sample screen shots:
ZODIAC HD on Amphib Floats
---
Click here for additional Flight Simulator files (of other Zenith Aircraft models and some earlier versions of Flight Sim):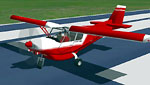 Related Links:
---