April 12 - 18, 2005
Lakeland, FL

Come visit us at the annual EAA Sun'n Fun fly-in convention:
Zenith Aircraft booth: Main outdoor exhibit area # MD26B
See the aircraft:
Designer Chris Heintz "Forums":
Chris Heintz, designer of the Zenith Aircraft kits, is scheduled once again to speak on light aircraft design and construction at Sun'n Fun.

The forums are an excellent opportunity to learn more about Zenith Aircraft kit designs - right from the source!

Date
Time
Location
Short Title
Tuesday
4/12/2005
1:00 - 2:00 PM
Tent #5
Light Aircraft Design For Performance & Efficiency
Wednesday
4/13/2005
1:00 - 2:00 PM
Tent #5
Sheet Metal Construction & Riveting
Thursday
4/14/2005
12:00 - 1:00 PM
Tent #1
Riveting & Sheet-Metal Construction For The 1st Time Builder
Schedule subject to change - see actual program.
A Zodiac XL kit will be under construction in the Sheet Metal Workshop area throughout the week at the convention. Visit the workshop to experience first-hand how to build your own kit aircraft!
The workshop hours will be 9-12 and 1-4 each day. The construction project is organized by the very able experts from FlightCrafters.
For more information, contact Bob or Russell at (813) 655-6411 or email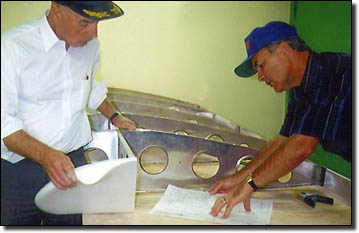 Start Building Your Own Airplane at Sun'n Fun!
For the first time ever, you can have one of our standard Rudder Starter Kits delivered to Sun'n Fun and have expert guidance assembling it at the Sheet Metal Workshop. You'll be guided by the pros, learn a lot, meet other builders, and go home with the first component of your own airplane completed! (Limited availability).
The price to get started is the cost of the rudder starter kit. You can order online using our secure online order form (choose "pick-up" as your shipping choice, and then note that the rudder kit is for the "Sun'n Fun workshop" in the "Instructions or Comments" box).

Factory-assembled Zodiac LSA for Sport Pilots
Meet the folks from Sportsplanes.com at the Zenith Aircraft booth and see a brand-new Light-Sport Aircraft (LSA) ZODIAC XL. They'll tell you all about the certified LSA version of the Zodiac. Sportsplanes.com markets and distributes the factory-built Light-Sport Aircraft (LSA) ZODIAC XL through regional centers located across the USA.

Zodiac in the Sun 100 Air Race ?
William Wynne reports that his team plans to race the "ZenVair" (Corvair engine powered Zodiac XL) in the Sun 100 at Sun'n Fun this year. Powered with his popular Corvair engine conversion, William says his crew has "flown it about 135 hours and we're very happy with it." The event is scheduled for Wednesday April 23.
The ZenVair ZODIAC XL will be on display at the Zenith Aircraft booth during the Sun'n Fun show, and a complete firewall-forward package by the Corvair Authority will also be on display: "My crew and myself will be on hand at the booth all week to answer any questions builders might have" says William. For more information: www.FlyCorvair.com
The Webmasters BBQ: April 14, 5:00 pm:
"www.ch601.org and www.ch701.com webmasters will be hosting a BBQ at their campsite for builders and wannabes of Zenith Aircraft. Bring your drinks and lawnchairs and meet many of those builders you know from email postings. We'll supply the burgers and dogs (no-obligation donations will be happily accepted). The BBQs will be fired up from 5:00 pm until everyone is fed on April 14th. Please RSVP using the SUN-N-FUN BBQ FORM so that we may know how many to prepare for and to have your name tag ready. The location will be posted at the Zenith booth along with the pre-registered name tags. We look forward to seeing you there!"
---
William Wynne's Corvair-powered ZODIAC XL
On the Sun'n Fun flightline (2003)
Zenair 701 at the 2004 Sun'n Fun
A STOL CH 801 leading-edge slat and wing assembly was on display (2002)
---
| | |
| --- | --- |
| Zenith Aircraft Company was presented with a Sun'n Fun plaque in 1999 "in appreciation of 25 years support" to the EAA Sun'n Fun fly-in convention. | |
---
Visit the official sun-n-fun.org web site for complete details about attending this major aviation event.
[Back]
© Zenith Aircraft Company
2008-07-14
---