Desenzano del Garda, Italy:
The 1999 "Small" Schneider Cup seaplane race held on scenic Lake Garda, Italy, on September 19, 1999, was won by Chip Irwin in a ZODIAC CH 601 on Zenair #1150 amphibious floats.
From 1913 until the early 30's the Schneider Trophy was the most important contest of its ere. France, UK, Germany, Italy, and the USA regularly took part. These friendly fights inspired dramatic technological improvements in the R&D for both airframes and engine.
The hydroplane world record was won on October 23, 1934, by the Italian with the Macchi MC 72, flying at 709.2 Km/hr near the shore of Lake Garda.
The legendary Schneider Trophy is now reborn in a version more adapted to our modern aviation - the Piccola Coppa Schneider - now challenging light aircraft (European-style "ultralights": aircraft weighting maximum 500 kg. [1,270 lbs.] gross weight with floats and a maximum stall speed of 65 km/hr. [40 mph]).
In May of 1998 in Lake Garda, Italy, the first version of the "Small Schneider Trophy" was undertaken of this important international contest.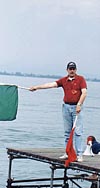 The racecourse is a five-kilometer triangle set near the shore of Lake Garda with the banner-marked masts of 3 large sailboats marking the corners. Racers start from idle in the water, crossing the starting line "sailboat racing style" while taking-off and make 8 laps around the course for a total distance of nearly 40 kilometers. The race altitude is 15 meters above the water. The three corners are 159 degrees, 150 degrees and 51 degrees. Chip Irwin finished the race in 16 minutes 53 seconds for a victory margin of 31 seconds. The next 7 places were won by Italian racers flying 4 Sky Arrows on straight floats, 1 MXP 100, 1 Corsario ANF, and 1 Tucano.
17 racers from France, Italy, Czech Republic and England entered the race, however, only 8 aircraft raced due to poor weather conditions.
Chip Irwin flew the Zodiac CH 601 UL on Zenair Amphibious floats to attend the race in Lake Garda, Italy - crossing the Alps at altitudes in excess of 8,700 feet.
The ZODIAC aircraft demonstrated its versatility by flying to the event, crossing the Alps, landing on both grass and hard runways, and docking on the Vela Yachting Club "tarmac" at Lake Garda.
The aircraft is the CH 601 UL (European Ultralight) version of the popular ZODIAC series light aircraft.