Picking Up Your Kit at the
Zenith Aircraft Company factory
Ordering Info | Custom Shipping | Shipping Info | Visiting the Factory
---
Picking-up your kit from the Zenith Aircraft factory: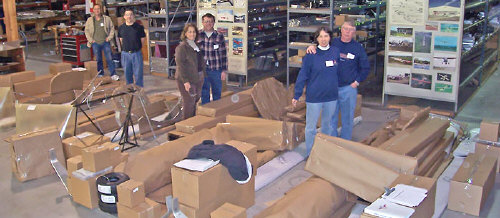 Picking up kits at a factory workshop (2/05)
Rather than having the aircraft kit crated and shipped to you, you can choose to drive to the Zenith Aircraft factory to pick-up your kit (saving the crating and shipping charges), while also giving you the opportunity to visit the factory and go up for a demo flight in a factory demonstrator aircraft.
The complete kit, or section kits, may be picked-up at the Zenith Aircraft factory in Mexico, Missouri. A trailer or large van/truck is needed to pick up the complete kit, as a length of up to 14-feet is required to accommodate the wing spars and skins (depending on the aircraft model). The typical weight of the airframe kit is between 500 and 1,000 lbs., depending on the aircraft model. A one-way trailer/truck rental (such as a U-Haul) is often the easiest and most affordable way.
| | |
| --- | --- |
| | |
| Unloading the kit | Fiberglass wheel fairings or cone heads? |
When you pick-up a kit, we do not package (crate) the kit parts so that you can easily and efficiently load the parts in your vehicle. As you are not charged for crating or packaging, please bring packing materials with you to properly load and secure the parts. We recommend you bring moving blankets and corrugated cardboard to protect the parts as you load them, as well as rope and cardboard packing material. If you use an open trailer, bring a large "tarp" to protect the kit from rain, road salt, etc. Depending on the size of the vehicle / trailer, you may need a roof rack to load longer parts, such as the wing spars.
Before making travel arrangements, confirm the pick-up date with Zenith Aircraft Co., as a pick-up appointment is required. Also, inform us ahead of time of the vehicle and packing materials you plan on bringing, so that we may give you any additional recommendations. Note: From our experience, a pick-up truck is not suitable for picking up a complete airframe kit. We recommend a trailer or large enclosed van/truck.
LOADING THE KIT IS YOUR RESPONSIBILITY:
You will be responsible for loading and properly packing the kit parts in your vehicle, and assuring that your vehicle / trailer is suitable for hauling the kit parts. Zenith Aircraft staff will be available to lend you a hand in loading, but Zenith Aircraft Company is not responsible for parts that may be damaged or lost in loading, transit, or unloading of the kit parts.
Back | Custom Shipping | Shipping Info | Visiting the Factory | Ordering Info
---