ZENITH AIRCRAFT @ WORK & PLAY AROUND THE WORLD
Project Schoolflight:
Students at Burt Township School Build an Aircraft
Grand Marais, Michigan project schoolflight
[Article Reprint from The Mining Journal, Volume 114, No 93]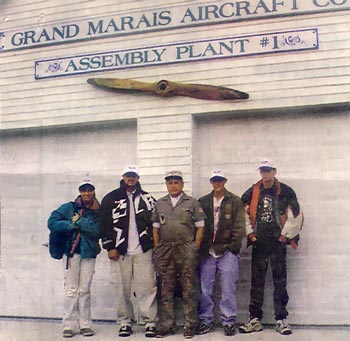 Burt Township School students and instructor stand in front of the garage in which they are building an airplane. From the left are: Catherine Bodak, Steven Bell, teacher Ed Bowen, Jeff Kinlaw and Troy Connor. (Photo coutesy of the Burt Township School).
Grand Marais kids take on plane project
By Renee Prusi, Journal Staff Writer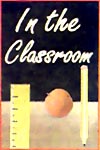 GRAND MARAIS - Students at the Burt Township School will be glad to see their classwork just fly away.
The work won't just fly away on its own, however. There will be a pilot involved.
That's because the students' work is a STOL CH 701 airplane that is being built in the school's aircraft assembly plant, which is a converted garage. When the work is completed, the plane will be fully operational. And the students might just have the chance to go for a spin.
The class is taught by Ed Bowen, a certified pilot, and George Hronkin, school superintendent.
"This has been really exciting for us," Hronkin said. "Mr. Bowen, who is a pilot, ordered the plane (kit) and when the work is completed, it will be his plane."
The Burt Township students spend five hours a week building the plane from the ground up, so to speak.
"This is really cool," said student Catherine Bodak, a Burt Township freshman. "My dad has an airplane and I always liked flying, so this is a way I can learn a little bit about it."
Bodak said the four students in the class arrive at the Grand Marais Aircraft Co. at 1 p.m. on the days they are working on the airplane and stay for about two hours.
"We do all sorts of work on the airplane. We make parts and everything," Bodak said. "We've learned a lot, actually. To think that we get to build something that is actually going to fly in the air is great."
Burt Township junior Jeff Kinlaw has been enjoying the opportunity to work on the plane as well.
"I've worked on scale models before but nothing like this," Kinlaw said. "We work on sections: First we finished the tail and now we are working on the wings, then the fuselage. ... By the time we are done, I think it will have taken somewhere between 400 and 600 hours to finish the plane."
Kinlaw said he had an interest in aviation before starting work on the airplane, but now he is quite taken by flying.
"The plane we are building is a two-seater and it would be cool to be able to take a ride in it when we are done," he said.
The STOL (short take off and landing) CH 701 is built from a kit provided by the Zenith Aircraft Co. in Mexico, Mo. Its brochure says the plane's mission is "to provide sports pilots with the best off-airport light aircraft while minimizing costs and building complexity." It has an all-metal construction and can reach a top speed of 95 mph.
Hronkin said the class has provided the students the chance to study blueprints as well as work on an airplane to give them a variety of learning experiences. They were even given a plane ride to inspire them.
"This has really stimulated interest in flying," Hroiikin said. "In Alaska, where I worked before, these kinds of classes were common. But up here, this is pretty unique."
And it has been both educational and enjoyable for the students involved.
"It's fun," Kinlaw said. "Actually, it's lots of fun. I always brag about (the class)."
Hronkin has done some boasting of his own.
"Some of the other superintendents were kidding me about building the airplane and I told them we had built a whole fleet," Hronkin said. "I told them we could fly in people from as far away as Marquette.
"But seriously, what I really like about this program is that it is tapping into the resources of our community," he said. "I think we are very fortunate. We may not have the resources of a larger school, but small class size, a caring atmosphere and unique class offerings make our school special."
[Back]
NOTE: This article represents the viewpoints of the author, and not necessarily those of Zenith Aircraft Company.