ZENITH AIRCRAFT AT WORK AROUND THE WORLD
'Flying Tigers' Use STOL CH 701 Aircraft
for African Anti-Poaching Patrol

By Bill Clark, Friends of Animals, Jerusalem, Israel
Friends of Animals (FoA) anti-poaching campaigns in Africa are being expanded with the reactivation of a historic air patrol - the Flying Tigers.
A $100,000 contribution from Taiwan (ROC) is enabling FoA to purchase the first aircraft and deploy it on anti-poaching patrol in Africa. The project, with cabinet-level approval from the Taiwan government, also revives the name and the spirit of the Flying Tigers.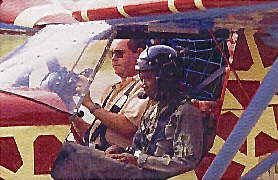 Friends of Animals has long been aware of the very important benefits aviation can bring to the protection of wild animals in large wilderness areas, such as are found in Africa. In early 1992, FoA started an ultralight aircraft patrol in Ghana which started catching poachers even before our training program for Ghanaian rangers was completed. More importantly, we have learned that when the aircraft is on patrol, the poachers stay away. They don't want to accept the very high risk of getting caught by the air patrol. Aviation is one of the most powerful deterrents in the anti-poaching arsenal.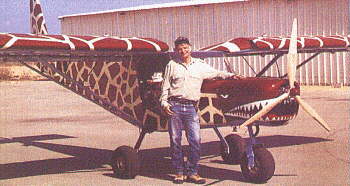 Bill Clark and his "Bunny Hugger" STOL CH 701
As of this date, Friends of Animals has started the project by purchasing a STOL CH 701 airplane, manufactured by Zenair Ltd., a Canadian-U.S. company. As "Zenair STOL CH 701" is a mouthful to keep on the tips of our tongues, we've decided to give our airplane a name which can be more easily remembered. We're calling her the "Bunny Hugger," a name which, until now, has been used by hunters and trappers as a term to ridicule people who protect animals. Once a few poachers have been caught by the air patrol, perhaps the name Bunny Hugger will carry a little more respect.
The Zenair STOL CH 701 is an all-metal, two-seat, single engine high wing airplane, with key design features that provide this conventional-looking airplane with performance capabilities particularly well-suited for wildlife protection patrol work. For example, it's very 'high-lift' wing design permits the airplane to fly very slowly - as low as 25 mph. Slow controlled flight permits the pilot and observer to inspect the ground more carefully - a very important capability for anti-poaching patrol work. Also, the "STOL" nomenclature in the airplane's designation means "Short Take-Off and Landing" which, in this case, means the STOL CH 701 can take-off and land on less than 100 feet of clear land. This means it does not need any prepared airfields, but rather can work from relatively short stretches of open fields or dirt roads which are common in most African national parks.
Two other key features of the STOL CH 701 is that it weighs only 460 lbs. Empty, and it can be disassembled for air freight transport in only a few hours. This means FoA can move the aircraft from place to place in Africa quickly and economically.
The basic airplane is currently undergoing professional assembly, and once completed, the machine will be delivered to a small airfield in Israel, where 66 modifications will be made - this will be the metamorphosis which transforms a stock STOL CH 701 into the formidable Bunny Hugger! Israel has an excellent reputation for being able to modify standard aircraft for specialized use conditions, and they already have extensive experience with the STOL CH 701. Modifications will include bullet-proofing the cockpit and engine cowling with Kevlar and installing detection and communications equipment.
Once all the modifications are in place, and the basic testing has been completed, we plan to move the Bunny Hugger to Kenya for some "shakedown" missions. The Kenya Wildlife Service (KWS) has a professional air wing with 18 airplanes of its own. In this environment, FoA will be able to conduct a few test missions with the voice of experience close at hand. While we will have opportunity to benefit from Kenyan advice, the KWS will also have opportunity to take a close look at our modified Bunny Hugger and learn about its patrol capabilities.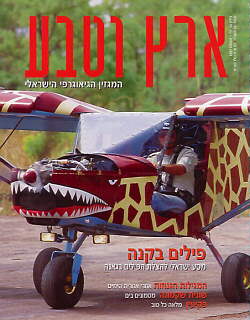 With fledging patrols accomplished, the Bunny Hugger will go on full operational status. Fiends of Animals is presently negotiating with wildlife departments in several countries - Ethiopia, Senegal, Ghana, and others - to establish a schedule for deployment of the airplane. Simultaneously, FoA is launching a fund-raising drive to solicit sponsorship of a second, third and fourth Bunny Hugger. Aircraft provide a very clear advantage to wildlife protection units, and we want to put this advantage in the hands of as many anti-poaching patrols as possible.
The Friends of Animals (FoA) project is formally known as the International Volunteer Group (IVG), a term which has evolved from the America Volunteer Group (AVG), which was originally created by the ROC Government in 1940, and employed a group of volunteer American pilots who helped defend China against Japanese aggression before the US entry into WWII. The AVG became popularly known as The Flying Tigers. The AVG was deactivated on July 4, 1942, with its equipment, and much of its personnel, absorbed into the U.S. Army Air Force 23rd Fighter Group.
Now the ROC Government is sponsoring the reactivation of the Flying Tigers, with the mission being changed somewhat. Rather than seeking out Japanese targets, the new Flying Tigers will be working closely with government wildlife agencies, mostly in developing African countries, to assist them in their efforts to stop poaching and intercept wildlife smuggling rings.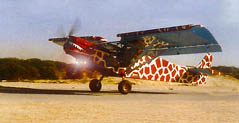 For additional information:
EAA EXPERIMENTER Magazine: March 1997
"Evolution of a Bunny Hugger" story, pages 43-45.
[Back]
NOTE: This article represents the viewpoints of the author, and not necessarily those of Zenith Aircraft Company.