Zenith Aircraft Co.
ZENITH AIRCRAFT AT WORK AND PLAY AROUND THE WORLD
Project Schoolflight Update: Junior High Students Build Aircraft with EAA Mentors
From "Project Schoolflight Update" Volume 5, 17 June 1998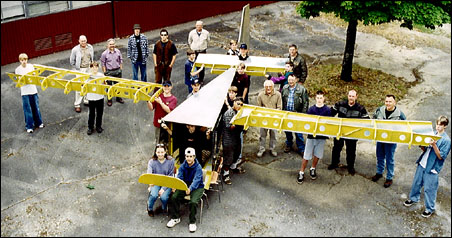 A year later (7/01)..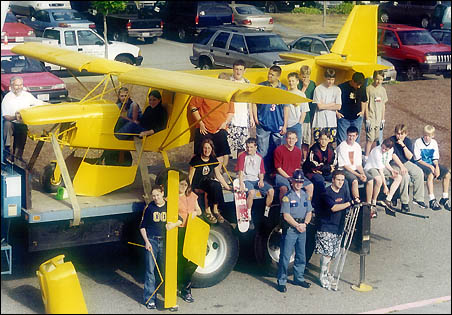 The Project:
What a year! We've accomplished so much it's hard to know where to start... First, the airplane. The students of Central Kitsap Junior High School Aero Manufacturing have completed much of the Zenith STOL CH 701. The rudder and elevator are complete. The aft fuselage is 3/4 done, requiring only the top skin to be finished, The internal structure of the horizontal stabilizer and both wings is complete and requires only the skin. The fuel tanks are fabricated, welded, and ready to install. We have most of the pieces required to finish the rest of the plane already made and awaiting assembly.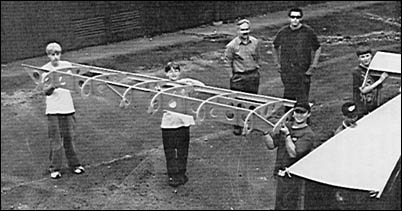 What remains to be done? The wings and horizontal stab must be 'skinned', the aft fuselage must be completed with the top skin, the forward fuselage must be constructed and joined to the aft fuselage, slats and flaperons must be constructed, the plane must be assembled, wired for electronics and instruments, plumbed for fuel, the engine assembled and installed, controls installed, and the aircraft painted. Think we'll be done by next June? Don't bet against this group. Test flights are in the near future!
[Central Kitsap Junior High School's STOL CH 701 project was built from blueprints and not from a factory kit].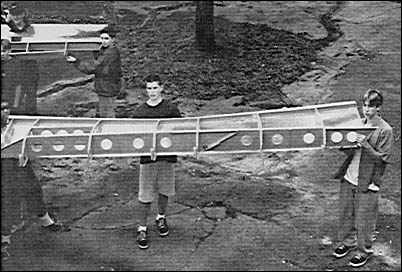 Our Website:
www.cksd.wednet.edu/ckjh/airplane
Eric worked hard all year and in February we published our website. It was the first activity site to be connected to a school site in Central Kitsap. The site introduced our project, showed pictures of completed 701s, listed and profiled our mentors, gave links to related sites, and provided E-mail addresses for Mr. Smith and Mr. Steed for people to write with comments.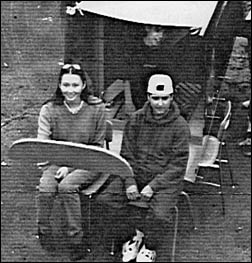 And they did! We have heard from France, Canada, Argentina, and around the U.S. There are other schools doing what we are and we are starting to talk with them. The foreign schools pose a problem but also present an opportunity. When Senor Wozniak wrote from Argentina, we gave our response to Aaron to translate. He did so, and now we have a correspondence going with a photo exchange in the works. The French III class Kiahowya Secondary is translating our correspondence with a technical high school building a fiberglass aircraft in Remiremont, France. The aircraft has provided the spark and the website the doorway for our students to develop real-world relationships with people in other countries that share our interest.
Other Integrations
We keep finding more academic tie-ins as the project matures. We have involved the art department, the band, the computer department of two Olympic and Klahowya high schools, the graphics lab of Klahowya, the Spanish department, the French department of Klahowya... And we're not done yet.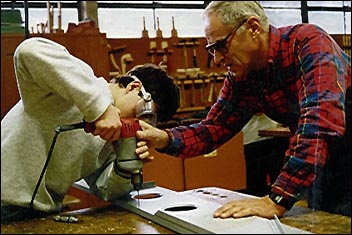 Thank You!
Many people and organizations have helped us get this far and we appreciate all that they have done for us.
The Paul Linder Educational Foundation provided the seed money of $ 1 000 to buy tools and training before the project began.
EAA Chapter 406 - The 77 members of EAA Chapter 406 have provided $500 for tools to be used in the construction of our aircraft. Much more importantly, 15 members of the chapter have provided over 800 hours of help, instruction, and encouragement as mentors. Profiles of these invaluable individuals may be found on the Profiles page of our website.
Lockheed Corporation - Through Mr. Downes, one of our mentors, the Lockheed Corporation has provided $250 to be used in the furtherance of our project.
The Naval Activities of Keyport and Submarine Base Bangor - The Navy's P.E.C.E (Partners for Excellence in Community Education) program provides active duty sailors and civilian workers to the local schools to increase community involvement and improve local education. Two of our mentors come from this program.
The AeroElectric Connection - Bob Nuckolls, the preeminent figure in homebuilt aircraft electronics, will be providing us with assistance, a wiring diagram, and electronic components for the CH701.
Metal Shorts - A metal supply company located on 6th Ave in downtown Seattle, has provided us with samples, advice and discounts on aluminum for our airplane.
Zenith Aircraft Company - has provided technical support, encouragement, publicity, and some really cool hats!
Finally, the Central Kitsap School District - We would like to thank the administration and the entire district for having the foresight, willingness, and courage to enthusiastically support this project.
What's Next?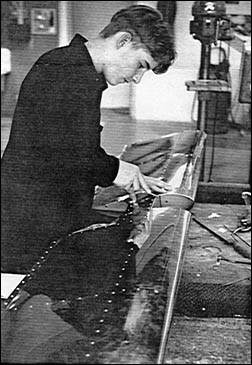 More excitement, that's for sure... Specifically, we have a new class of 27 aeromanufacturers signed up for next fall. Add to those the 1 0 builders that will be returning to participate in Aeromanufacturing 11 and we'll have some real activity.
Our builders will be assigned to one of three groups. The composition of these groups and individual assignments will change frequently as needs dictate. The first group will be involved in the continuing assembly of the CH-701 that we started this year. The second group, under the direction of Tony Marshbank, will be assembling and testing a Volkswagon engine that is adapted for aircraft use. The third group, which will initially consist of most of the new students, will begin the construction of a CH-601.
The Zenith CH-601 is another design by Chris Heinz. It is a fast, two seat, low winged aircraft. The design, materials, and complexity of construction are very similar to the 701. The 601, however will achieve speeds of 140 mph on 70 hp, making it an aircraft with cross country possibilities.
Both Mr. Smith and Mr. Steed will be attending the Experimental Aircraft Association annual convention in Oshkosh, Wisconsin this summer. They will meet with representatives from the Zenith factory, suppliers, other enthusiasts, and examine flying examples of both aircraft.
[Above photos by G. Steed]
---
Visit the Project SchoolFlight website: http://www.cksd.wednet.edu/CKJH/airplane/
(This is an excellent site on this project)

Visit Zenith Aircraft Company's Aviation Education Page

Additional reading:

"One Plane, Many Lessons," by Heidi G. Evans, The Sun, February 9, 1998, page A4.
"CK Junior High kids set sights sky-high," by Amy Wold, Central Kitsap Reporter, Sept 17, 1997
"Local EAA teams up with students," by Ann Vogel, The Sun, Oct 1, 1997
"Student-built plane takes shape," by Amy Wold, Central Kitsap Reporter, May 2, 1998
"On Wings of Discovery," by Lynette Meachum, The Sun, June 8, 1988Oct 1, 1997

For more information on this project and/or to offer your support, contact:
George Steed, president, EAA Chapter 406
Email: gsteed@worldfront.com
[Back]
NOTE: This article represents the viewpoints of the author, and not necessarily those of Zenith Aircraft Company.