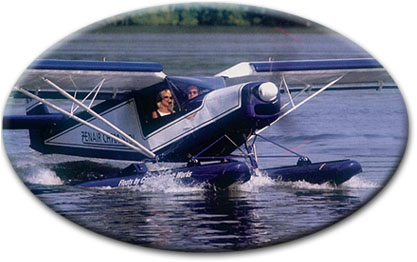 ...A Plane for All Seasons
Pilot lands on lake without floats
January 1, 2002, Canaan, NH -- A Hanover man escaped injury today when he landed his home built plane, a STOL CH 701, on nearby Goose Pond without his pontoons.
"My floats were off for the winter," explained pilot Henry Clews, 57. "I really miss water flying and I wanted to start the new year off with a bang!"
Early Tuesday morning Clews, a mechanical engineer, made some tests to determine if he could safely pull off the stunt. Using a portable electric drill, he sampled the ice at several points along his intended landing strip.
"I was able to measure the minimum 4-inch thickness I need to support the weight of the plane," he stated. "After all, it only weighs 625 pounds."
Normally, by New Year's Day, ice on most small New Hampshire lakes is thick and the ice fishing huts are well established. But this year has been different. Clews produced a photo taken just over a week ago showing open water in front of his summer camp, "Goose Bump", the site of today's landings.
Not only was Clews able to land safely, but he was able to manage some pretty impressive takeoffs as well.
"I chose the STOL CH 701 design because of its great short field capability," Clews explained. Rolling on the smooth ice with a gusty northwest wind in his face, Clews was able to take off in an astounding 2.5 seconds with a takeoff run measuring under 40 feet!
"A great way to start the New Year!" Clews proclaimed with a grin.
©HMC - 1/01/02
---
Additional photos from Henry Clews:
---
Additional Resources