ZENITH AIRCRAFT AT WORK AROUND THE WORLD
Teen-Age Kitbuilder Completes CH 701 Airplane
By LeRoy Cook
Private Pilot Magazine, August 1997, Pages 86 - 87
WHEN young Bart Engemann of Rhineland, Missouri began to dream of flying airplanes, he wasn't content to simply build a few models and gaze longingly into the sky. The son of a grain and farm supply dealer in the Missouri River Valley west of St. Louis, Bart hung out with the ag pilots working their Pawnees and Ag-Cats over the fields near Rhineland. He could see a future in flying, not just a daydream.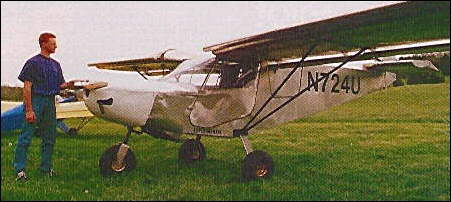 Seventeen-year-old Bart Engemann with his unpainted Zenith CH- 701 STOL, ready to fly.
As Bart grew into his teen-age years, he realized his only problem was his age; he couldn't solo until his sixteenth birthday and he was far too young for a pilot's license. Nevertheless, when he was 14, Bart's supportive parents started taking him on a weekly half-hour commute to legendary CFI Howard Wehrmann's grass-strip flight school in Montgomery City. Wehrmann took the lad to Oshkosh that summer; it was a trip that fanned the flames of desire into a raging conflagration.
Soon, Bart was no longer content to mark time. He located an ultralight-legal TEAM Mini-Max in Columbus, Illinois, a single-seater he could fly while waiting for the calendar to change dates. At 14 1/2, he soloed in the Mini-Max, following hours of practice in Wehrmann's Aeronca Champ. Thanks to the latitude afforded him by FAR Part 103, he could fly the Mini-Max around the valley, occasionally ranging as far as Mexico, Missouri - home of Zenith Aircraft Company. His only bad experiences in the Mini-Max were a small nick in his propeller when a paper feed sack went through the blades, and a forced landing caused by a broken clamp on the Rotax 277's Bing carburetor, which put him into a farm field. Even the nose-up at the end of his landing roll on the rough ground did no damage, since the propeller stopped in a horizontal position.
As would any dedicated pilot, Bart soon hankered after more payload and power. Building a kit airplane was the logical answer, because it would occupy the time until he grew old enough for the license. There was also a world of choices available.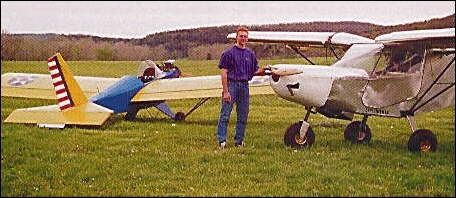 Bart Engemann with his shiny new aluminum CH-701 kit airplane and TEAM Mini-Max ultralight
Zenith's CH-701 STOL kit caught his eye. In June 1995, he attended a weekend builder's workshop, where he put together a CH-701 rudder kit. He decided the CH-701 was to be his next airplane. As he had done with the MiniMax, Bart sat down with his banker and parents to arrange the financing, then ordered his CH-701 - a bold step for someone still too young to solo an airplane.
In addition to the time he was racking up in his ultralight, however, Bart was working toward solo qualification in Wehrmann's Cessna 150. He soloed on July 21, 1995 - his sixteenth birthday - then went right back to work on his CH-701. He had all his high school activities looming on the horizon, including football, and he had to hold down a job at the grain elevator to pay off his loan. A 1972 Chevy pickup, rather than a flashy newer car, was his cruising transportation. It was enough to get him to and from the airport.
Bart was able to obtain his vocational agriculture teacher's approval to make his airplane kit a shop project. He could then get credit and use school hours for building the right wing and tail. First completed were the wings and then the horizontal tail kit, followed by the fuselage kit. The landing gear and controls kits were the next assembly jobs, finishing up with the powerplant package. Fortunately, designer Chris Heintz insisted that the Zenith kits be able to be constructed using only hand tools. Bart could also count on the support of the factory, only 60 miles away.
When he worked on the final details, Bart learned the truth of the old adage, 'The last 10 percent takes 50 percent of the building time." His biggest challenge proved to be the apparently simple task of mounting the doors; it took quite awhile to get the lunges set correctly so that the angle of the underwing doors would allow free movement.
His panel has provisions for nav-comm and GPS units, along with a neat LCD-readout digital altimeter by Taskem Corporation of Westport, Massachusetts. The N-number reflects his football jersey's number, 72, with a "for you" (4U) suffix appended. The nonfolding wings use four attaching bolts and are quickly removable, making the task of transporting the completed airplane to the farm a relatively easy one. The airplane has the optional new all-terrain low-pressure 8.00 x 6 tires on all three wheels, and an 11-gallon fuel tank feeds the 65-hp Rotax 582 liquid-cooled engine, equipped with oil injection to replace the bothersome mixing of-two-cycle oil and fuel. A GSC N745 propeller was ready to pull the airplane into the air.
Bart's CH-701 came in with an empty weight at 490 pounds, so with a 960 pound gross weight, he will have about 400 pounds of payload on tap with full fuel - a big departure from the brakeless Mini-Max. He has no hard figure for building time, which he considers to be ongoing, since he works on the paint design, interior and trimming of metalwork while the test flying continues.
We met in the spring of 1997, a bit less than two years into his kit airplane project. Seventeen-year-old Bart had taxied his signed-off CH-701 up and down the 2000-foot strip at his grandmother's farm, although he had been too busy to get his private pilot checkout out of the way. Once that was accomplished, he would be ready to put the Mini-Max up for sale with 90 hours logged and start flying off the test hours on his CH-701.
At this point, Bart has his eye on the Air Force Academy or any other school lucky enough to recruit him. He's already taken on major responsibilities with the purchase and construction of his own airplane. As he put it, 'It's different when you're building something you're going to fly; figuring out how to do things is your responsibility, and the smaller decisions are often left up to you by the kit maker." Successfully taking on such accountability gives a tremendous feeling of accomplishment, one Bart and his family should hold on to with pride.
By LeRoy Cook
© Private Pilot Magazine, August 1997
Subscriptions call: 800-365-4421
[Back]
NOTE: This article represents the viewpoints of the author, and not necessarily those of Zenith Aircraft Company.
---