ZENITH AIRCRAFT AT WORK AROUND THE WORLD
Article Reprint
A lifelong dream awaits flight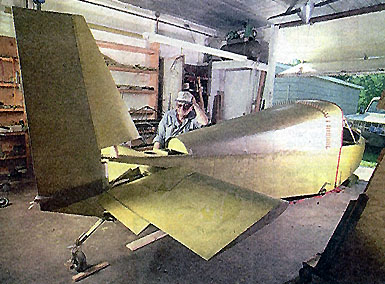 Percy Jenkins, 86, of Lamoni, Iowa, is building a
Zenith CH 200, single-prop airplane in his garage.
LAMONI, Iowa - Most 86-year-old men are glad just to be around - anywhere.
They are probably content this summer to sit on a front porch and tell stories.
But not Percy Jenkins.
He's building an airplane.
Nearly every day an hour or so before sunrise, Percy puts on his cap and steps into the quiet darkness of Lamoni, a small town that lies not a much more than the length of a landing strip from the Iowa-Missouri border. He takes the sidewalk between the house and the garage to a building at the rear of the lot.
His calloused hands raise the large sliding,door, and he flips on an overhead light.
There's his airplane - a Zenith CH 200, a single-prop job. It takes up pretty much the whole floor.
He's been working on it five years or so. It's not a kit. Percy is making most of the parts. He's even made a few of the special tools needed to make those parts.
The plane is 65 percent complete, Percy figures. The engine, which waits in the garage, goes on next. Last week, he installed the flight instruments.
When the plane is finished, he's going to paint it chrome yellow - "so people can see it" - and then he plans to fly it over the Iowa farm country, where he flew kites decades ago as a boy.
Percy estimates he will have put about $7,000 worth of materials into the plane by the time it's complete.
He's never built a plane before, but he has no doubt this baby will fly.
"Ain't no reason why it wouldn't," said Percy, who has more than a thousand hours of flying.
Alice, his wife of 62 years, nods. She remembers all the things he's built or fixed over the years.
"He takes good care of his tools, and he is very particular about the measurements," she said.
"Have to be," Percy said. ,"That's the thing about an airplane: If something goes wrong in the air, you can't pull under a shade tree and fix it."
There's a thought. One certainly on the mind of Joan Scribner, the couple's daughter who lives in Independence. She is all for her father building an airplane but isn't sure she wants him to fly it.
"I know he's not a little old man tinkering out in his garage," she said. "He knows what he's doing, but we'll talk about who's going to fly it when it's done.
"Right now, here's a very unique man who has the rare privilege of living out a dream.
"Mom's not doing too bad herself. They haven't got time to be old. They're too busy."
Alice, also 86, is into crafts. She spends her days knitting and crocheting and collecting clothes for the homeless. She tells schoolchildren stories and plays the piano.
Percy plays the fiddle.
Percy and Alice go everywhere together. They don't watch television except for news and "Jeopardy." Their house does not have air conditioning.
"We like the fresh air," Alice said.
She takes a little heart medicine. He is prescription-free but does take a little calcium.
"I think that's why I stand so straight," Percy said.
When Percy needs a hand with the airplane, Alice is always ready to put on the gloves and grab a tool or handle a piece of sheet metal.
She was born on a farm west of Des Moines. Percy's home country was to the south near Panora, along the flatland side of the Middle Raccoon River.
Alice became a schoolteacher. Percy started college, but was called home to help on the farm.
They met, fell in love and were married April 17, 1931, in her parents' living room.
The young couple farmed until 1942, when they moved to Independence. Alice got job with a publishing company, and Percy worked as a mechanic for the city of Independence and Jackson County.
They reared three children. In 1972 Alice was told she was too old to work, and the couple returned to Iowa, settling in the small house in Lamoni.
It was then that Percy started thinking about building an airplane. He had always loved airplanes and built toy models as a boy.
The couple often took trips in their younger years in a single-engine plane called a Culver Cadet, which they bought for $800.
The first thing Percy did was buy the construction manual. It's about 6 inches thick, full of mechanical drawings and specifications. Then he bought the engine, a Franklin 4AC235. Cost: $1,900. Good thing he bought it when he did, he said. A new one now would cost more than $5,000.
Next he drove to Chicago and bought $5,000 worth of steel and aluminum and other materials.
That was about five years ago.
"Been piddlin' a little along each day since," Percy said.
After the engine is mounted, the wheels come next. Then he will roll it outside and put on the wings.
It should be ready to take off in about a year or so.
"Oh, it will fly," said Royce Diveley, a member of the Experimental Aircraft Association who's helped Percy occasionally. "I don't know if Percy will fly it, but someday, somebody is going to get that thing in the air.
"Don't doubt it - he's building a real airplane."
So far now, 6,000 or so rivets into the construction, the work continues. A few hours each day.
Percy hasn't thought about a name for his airplane.
"I'm more interested in getting it done," he said.
Dying is the only thing that will keep him from it.
"And if I kick the bucket, and they have an auction of all my stuff," Percy said as he looked around the shop with a propeller hanging from the ceiling, "some of these special tools I'm using - guys won't have any idea what they're looking at."
---
© THE KANSAS CITY STAR. Reprinted from The KANSAS CITY STAR, pages B1 & B3, August 22, 1993.
[Back]
NOTE: This article represents the viewpoints of the author, and not necessarily those of Zenith Aircraft Company.