ZENAIR FLOATS

Zenair Floats: Quality Light Aircraft Since 1974.
Enjoy the thrills, fascination and freedom of FLOAT FLYING with Zenair's all-metal floats for light-sport aircraft, kit planes and ultralights.
Going fishing?
Visiting the cottage?
Touring the lakes?
or just getting away from it all for a weekend of peace and quiet...
A float plane is the definitive way to bring back FUN to recreational flying. Float flying adds a whole new perspective to flying - with exciting new challenges, and peaceful quiet interludes on the water.
With Zenair Floats, converting your existing land sport plane to a seaplane is surprisingly easy and affordable. Available in a wide range of sizes, there are Zenair Floats for your aircraft.

---
Zenair's exclusive AMPHIBIOUS FLOATS bring you the BEST OF BOTH WORLDS!
Fly from both land and water with fully amphibious floats...
---
Using modern aviation aluminum alloys that are very durable and corrosion resistant, and proven design techniques, Zenair Floats are easy to assemble from quick-build kits. Already, Zenair floats have been installed on dozens of different kit and ultralight planes, and are in use around the world.
The durable light-weight floats weigh barely more than most fixed landing gears, and the sleek aerodynamic design minimizes drag. In fact, the floats aerodynamically carry their own weight in flight without reducing the useful load of the aircraft. The conventional float design incorporates a hydrodynamic 'step' which allows separation from the water in short distances, with take-offs from water possible in no more than a few hundred feet! (Of course, performance depends on the aircraft type, installed powerplant, weight, propeller pitch, and so on).
Zenair floats have proven themselves very effectively on dozens of different homebuilts, ultralights and even on factory-builts (with a one-time STC to maintain certification). The floats (whether standard or amphibious) are available from the factory in quick-build complete kits.

ZenairTM floats are based on a conventional and proven design, made specifically for light airplanes. Built of modern aircraft aluminum alloys, the floats feature individual compartments separated by full-size bulkheads, a rugged custom extruded aluminum keel, and a 'walkway' stiffener along the top. ZenairTM floats are the lightest available on the market – minimizing performance loss when adding floats to your aircraft. A quality 'marine adhesive sealant' makes the floats very watertight, and the conventional sheet metal construction is easy to repair if ever damaged, by simply patching and sealing the damaged area. Additional corrosion protection may also be added if operating the floats in salt water.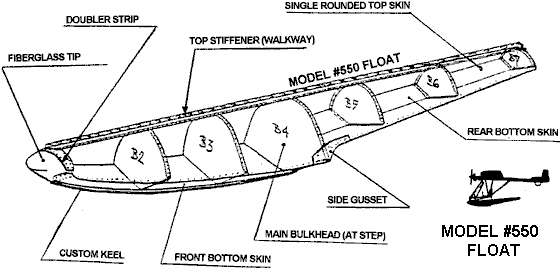 ---
---
---
© Zenith Aircraft Company: 2014-03-19