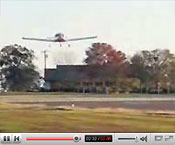 Nice video clip of Zodiac XL flying in northern California.
More video clips from around the world on building and flying the Zodiac:
---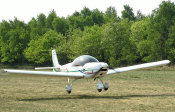 André van den Elsen's first flight in his kit-built Zodiac XL aircraft.
Click here to visit André's excellent website with many kit construction photos.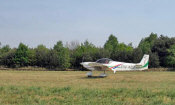 Grass field operation...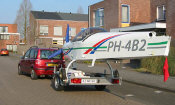 Trailering the aircraft fuselage to the airport prior to the first flight.
---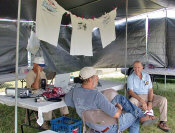 Zodiac builder Jeff Davidson organized a Zenith builder gathering on September 22 and 23, 2007, at Winchester, Virginia, with five Zeniths flown in. Jeff wrote:
"The Mid-Atlantic Zenith Gathering was a great success. Many Zenith aircraft flew in. Honors for the greatest distance flown to attend went to a 701 builder flying in from Bennington, Vermont! We enjoyed some local apples, good talk, shade of the large tent, the EAA Chapter 186 flyin activities, and especially those Zenith planes that flew in. Every model of the 601 was represented including a new SLSA XLi. Questions about the 701 were voluminous indicated a tremendous interest in STOL aircraft. Thanks to all who participated!"
John Hartlin flew his Zodiac CH 601 in from Cedar Bluff, Virginia (left)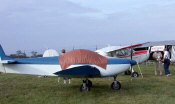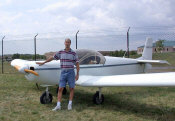 Jordan Wintringham flew in from Virginia Beach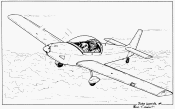 Coloring Book:
Print this photo and to paint this Zodiac XL taildragger any way you want.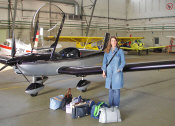 "The bags are packed and I'm ready to go!"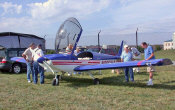 Howard Anderson flew in his AMD Zodiac Xli
---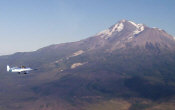 Doug Dugger's Zodiac XL flying by Mount Shasta (northern California)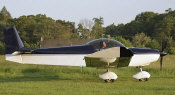 Operating the Zodiac from a grass field...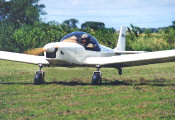 Flying a Zodiac CH 601 taildragger "ultralight" in Japan.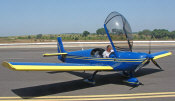 A factory-assembled Zenair Zodiac XL-ULM delivered in Europe.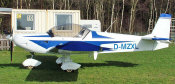 Another European Zodiac XL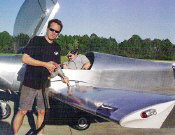 Ready for the first flight: William Wynne of FlyCorvair tops up the Corvair-powered Zodiac XL, built by Kitplanes magazine's Rick Lindstrom and piloted here by Gus Warren.

(From "A Sign of the Zodiac, Part 5" by Rick Lindstrom, Kitplanes magazine, October 2007, pages 25 - 31).
---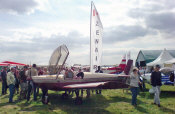 European Zodiac XL aircraft at the Blois international ULM (ultralight) and Light Sport Aircraft fly-in convention in Blois, France (September 1 and 2, 2007), represented in France by "Zenair France"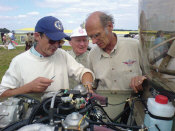 Chris Heintz, designer of the Zodiac series aircraft (and officially in retirement), made a surprise visit at Blois on September 1, 2007. Here he examines the Rotax 912S engine installation in a European Zodiac XL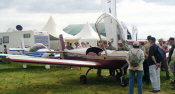 Two European Zodiac XL aircraft on display at the Blois international ULM (ultralight) and Light Sport Aircraft fly-in convention in France
---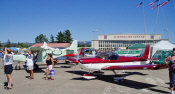 Four Zodiac XL and two STOL CH 701 on display at the "Wings over Wine Country" airshow (Sonoma, California).
Builder/owners: Steve Smith (XL), Doug Dugger (XL) Christopher Desmond (701), Rick Lindstrom (XL), Quality Sport Planes (701) and Bob Archibald (XL).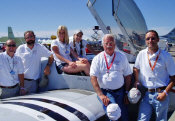 The friendly staff at Dragonfly Aviation displayed their Zodiac XL trainer at the "Wings over Wine Country" airshow, the only LSA Sport Pilot trainer in the region.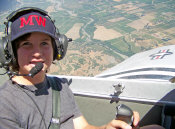 Austin (age 15) taking Sport Pilot flying lessons in the Zodiac XL at Dragonfly Aviation (in California).
Click here for a listing of flying schools using the Zodiac XL aircraft for flight training.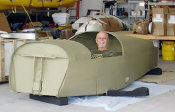 Steve Weston of Arizona seated in his Zodiac XL Kit:

"I'm moving at a much faster pace than expected. Thanks to a very complete and well thought out kit. Compliments to all at Zenith. I've looked at many kits and the 601XL Kit is the best."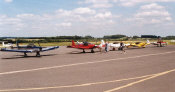 A gathering of Zodiacs in Europe.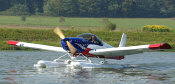 ZODIAC XL on custom amphibious floats.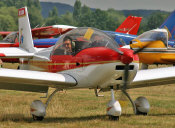 Zodiac XL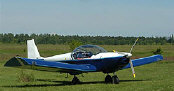 Zodiac CH 601