Kit Aircraft for Sport Pilots: Photo Gallery #111
---
Click on thumbnail images for full-size picture. Choose additional photo galleries on left-hand menu.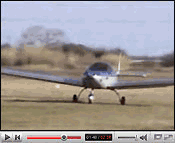 Video Clips from around the world on building and flying the Zodiac:
---
Jim Timm's Zodiac XL aircraft with tail dragger gear configuration, powered by the Jabiru 3300 engine.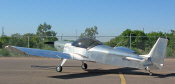 The aircraft was built from a kit.
Complete custom instrument panel, with dual Dynon EFIS and autopilot.

The aircraft is equipped with the optional dual control sticks.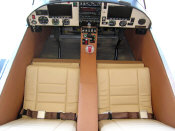 Jim's cabin is equipped with the optional dual control sticks and luxurious upholstery kit.
---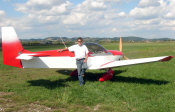 Bozic .V, of Doboj, Republika Srpska, Bosnien and Hercegovina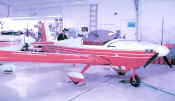 Roy Garrett's Zodiac XL in Michigan, powered by a Lycoming O-235-L2C.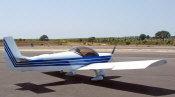 Factory-assembled Zenair Zodiac XL-ULM delivered in Europe.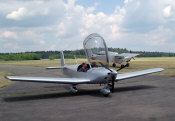 Zodiac CH 601, with a STOL CH 701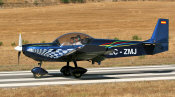 Zodiac XL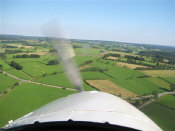 Climbing in the Zodiac... a great view over the nose.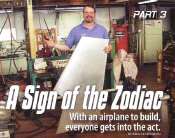 KITPLANES Magazine Builds a ZODIAC XL Kit, Part 3, August 2007 Issue:
Kitplanes magazine writer Rick Lindstrom continues the saga of building and flying his Zodiac XL kit plane in this third installment, as he reports in the August 2007 issue of Kitplanes magazine.
Aaron Gustafson, Iron Mountain, Michigan:
"After years of scratch building, my 601 finally flew on June 9th, 2007. It is equipped with a Continental 0-200 engine, spring gear and gull wing doors. It flies great, everything I had hoped for and more. I tell people 'I made every piece', from engine installation, sewed the upholstery, all welding including wing tanks and the paint. I learned very much by doing it myself. It was a great project. It's a great plane and what will I ever do with my time come winter!?? "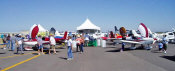 Zodiac XL aircraft in Eugene, Oregon (2007).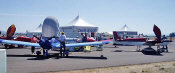 A gathering of Zodiac XL aircraft in Eugene, Oregon.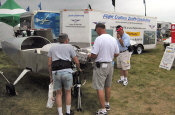 Admiring a Zodiac XL Kit at AirVenture 2007 (Oshkosh).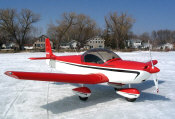 Al Beyer's beautifully finished Zodiac HDS, from Oshkosh, Wisconsin, powered by a Jabiru 3300 engine.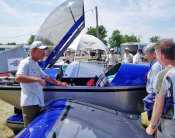 Dick Schmidt (Menasha, WI) with his Corvair powered Zodiac CH 601 HD at AirVenture 2007 (Oshkosh).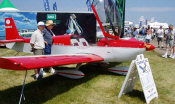 Zodiac XL at AirVenture 2007 (Oshkosh).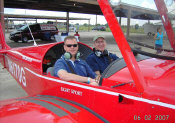 Zodiac XL S-LSA used for Sport Pilot training
Zodiac XL SLSA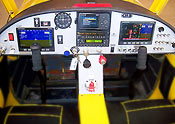 A very complete panel in a Zodiac XL, equipped with the dual controls.
---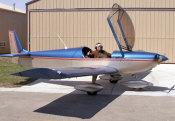 Jim Taylor's Zodiac XL, powered by the Jabiru 3300 (Junction City, Kansas):
"I made the test flights myself and was very happy with the performance and flight characteristics of the XL, it being very stable and just a whole lot of fun to fly. I also installed all the options offered: The dual sticks and dual rudder brake peddles, the lighting kit, wing baggage lockers and the extra fuel tanks. I was very pleased with all of the additions I added and if building another would do it the same.
"I installed a Jabiru 3300 engine which runs very smooth and seems well matched and powered for the 601 XL. I have no problem in cruising at 130 MPH when turning 2800 RPM. The rate of climb is as you specify, and boy, how well it will climb. The panel has a complete set of regular instruments as well as a Dynon EFS and a Blue Mountain Sport EFIS."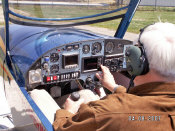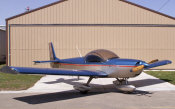 ---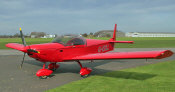 A solid red Zodiac XL, powered by a Rotax 912S.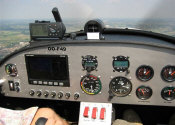 Flying the Zodiac XL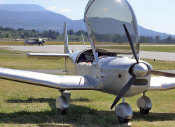 Grant Corriveau's Zodiac HDS powered by a Honda-based CAM100 custom engine installation (Nanaimo, B.C., Canada)
Previous Photo Gallery
---
"The Zenith literature package is easily the most complete package I have received from any light aviation company, and I've seen many other good ones among the hundreds I have studied. Lots and lots of information is presented with some lovely graphics. The literature alone is impressive, but the volume of information will keep you reading for hours. You can get a good idea of what you're buying without ever leaving your chair."
— EAA Experimenter magazine
Click here to order the ZODIAC Info Kit with an all-new DVD
---
Note: Many of these images show customer-built aircraft, some of which have been modified without the designer's specific approval. Modifications will affect the specifications and performance of the aircraft.